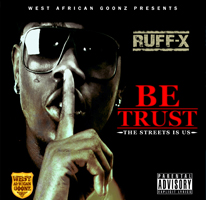 South Africa based 23-year-old Cameroon born rapper and CEO of West African Goonz ,   RUFF X (Raul Fortika), has a new album out! BE TRUST! (The Streets Is Us)
Having grown up on the streets of Johannesburg, Cameroon born Raul Fortika transformed into the rapper that is now known as RUFF X in the early 2000's.After releasing his first street tape in 2007 'Face of a Hustler', Ruff X was discovered by some of Mzanzi's hip hop movers and shakers at the time, Bongani Fassie and crew and it was clear to a lot people in the industry that this young man has a raw talent.
In 2008 he collaborated with Fassie, and recorded his second full length street tape, 'All or Nothin'' featuring artists like Bongz, Maggz, LES, Ishmael, Mailman and Cook the Chef to mention a few.
In 2010 Ruff x was also featured on Jozi's symphony album, on the track titled "Africa", creating a hauntingly beautiful and pan-African patriotic sound, which has been heard and loved by fans worldwide.
In 2011 RUFF X released his latest work through his own record label (West African Goonz) aptly named BE TRUST! (The Streets Is Us).
He equally collaborated with JOZI in a song titled "Diva" which is currently hitting the charts across Africa.

BE TRUST! Is a hard hitting hip hop album, with beats by Bongz, Ishmael, and Cocaine… RUFF X really brings it to the table, and should make the industry sit up and take notice of this young  African Rapper!
Contact:
| | |
| --- | --- |
| Email | |
| Phone | 073-233-4686 |
| Website | |