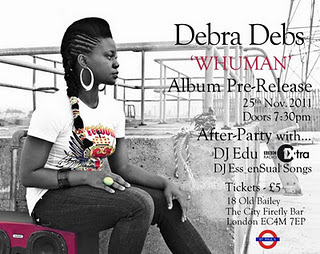 UK based Cameroonian Neo-Soul artist DEBRA DEBS has been creating indelible footprints in the underground music industry and now is the right time for her ingenuity to be spotlighted.
A mellow voiced artist, she was uniquely influenced by  Musiq, Jill Scott , Erykah Badu, D'Angelo.

"WHUMAN" her new EP is enshrouded with socio-conscious, love vs pain, melodic story-telling drawn from the heart & soul and guaranteed to have listeners relating to it in every which way possible.
This rich package was  produced  by herself, Oscar "Ozkeyz" Stieler (who has played for Dwele, Tayo Cruz, Mario, N'Dambi, Yolanda Brown and Glenn Lewis), Precious Obindi and Dwight "Donyea".
The album shall be released in November 25th 2011 in London.
Enjoy this  :
http://soundcloud.com/debradebs/africa-higher-higher