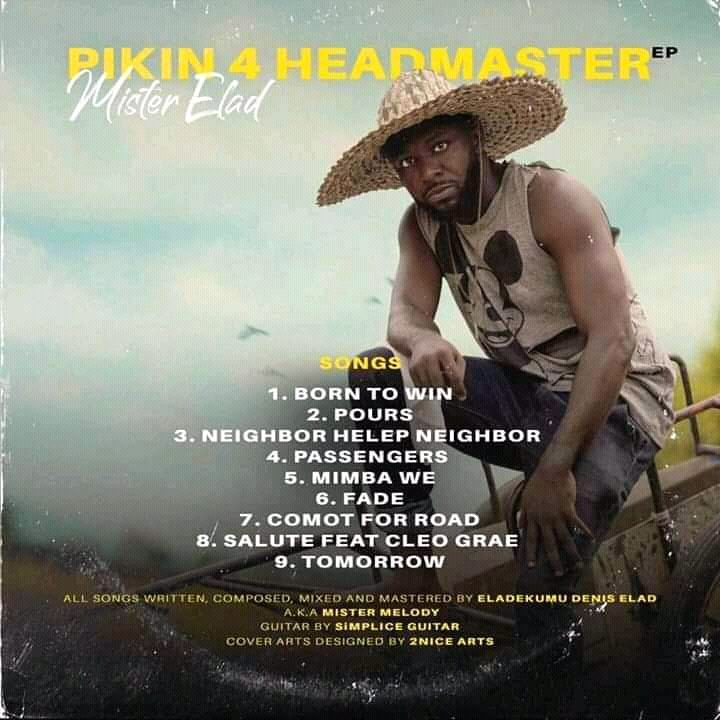 Mister Elad has released his much- anticipated EP dubbed "Pikin for Headmaster" . The 9-track EP has proven Mister Elad's lyrical adroitness , verve and vocal prowess. He also establishes himself as one of the most adept producers we have .
The EP is highly thematic, surfing through positive ideologies with a desire to effect change in the society. "Pikin 4 Headmaster" encompasses the plight of the people, love, unity , empathy , vanity and success.
"MIMBA WE" is an outcry of the masses going through the plight of unemployment, lack of road infrastructures, hunger , poverty  and lack of social amenities.
The government has a duty to respond to the needs of the people.
He also decries repression as a response to the masses clamouring for their social rights.
FADE burrows through your mind and immerses you into a self-examination .
"When money and power is on your side , it feels like you're on top of the world…life is just and illusion"
Life is temporary; everything we crave for like money , love , power and fame will fade away at the end . This is how people get ensnared in a loop that leads to nowhere.
Fade conveys a message of humility .
This theme has a biblical reference ;
Proverbs 27:24
"A man's strength, power, and riches will one day fade away; not even nations endure forever"
Money is essential for our daily needs but we shouldn't cross limits while running behind these things that do not last forever
Joy is not in luxury but in contentment.
OMG! For some reason my best is COMOT FOR ROAD, maybe because Mister Elad submerges me in an infusion of R&B and highlife .
The song preaches against harm-joy, hatred and people who are happy about others misfortune; "When they see you shine, they go put you sorry for road"
He opines that we shouldn't envy others. It is said that envy short-circuits your own good.
"The downfall of a man is not the end of his life, "Cow way no get tail na God di drive am fly"
makes the song so  proverbial.
It means no matter how people plot against you or aim for your downfall , God will raise you up.
PASSENGERS
Like Jim Reeves , Mister Elad elicits the message that this world is not our home, we are just passing through. In essence , we teach , we learn, we grow and die; we are all here on a tour.
"Everybody get a life to live, what will be will be..We're just passing through this life as passengers.
In life, we shouldn't claim to be holier or better than one another .
POURS
When something bad or good occurs , other bad or good things occur at the same time. –
"When it rains it pours" .
In the song , Mister Elad evokes that everyone has his own turn in life to succeed. What ever happens never give up, work hard , one day you'll achieve your deserved success.
SALUTE featuring Cleo Grae is the first single released off this beguiling EP
The song is replete with emotions about how ephemeral life can be. It conveys a positive message of being altruistic and compassionate when you are alive, for life is too short.
BORN TO WIN glides us through an acoustic rhythm conveying a motivational message that we should be resilient , never give up ; for we were created to triumph. To me, it is the best vocal performance in the EP .
"Like a bird I want to spread my wings and fly…if I fail there's no regret. No food for the lazy. You have to do it on your own. You were born to win, don't you ever give up no..no..no"
Life is a rocky path with ups and downs , but we have to be goal-oriented and strive hard to achieve success.
TOMORROW is an embroidery of highlife tune and Hiphop with an 808 bassline. The song tells us about the unpredictability of life ; you never know what sort of event will happen .
"No man no know tomorrow
The people you meet on your way up, you'll meet them on your way down".
He says we need to treat people with kindness because you never know who that person will become by a click of a button.
NEIGHBOR is an appealing piano melody evoking the themes of love , unity and solidarity.
Normally in Cameroon, we have a negative connotation about the phrase "Neighbor helep neighbor" but Mister Elad tosses the coin to positivity .
He holds the opinion that we need one another to grow by sharing and being self-effacing ; for united we stand and divided we fall .
This EP is a must-listen !
Click on the below
https://auxplay.com/album/89-pikin4headmaster-ep
A review by #nexdimempire