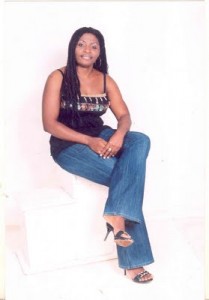 Sylveria Awah Anye, is a  Cameroonian researcher in cinema , an actress and a producer. She is an icon in the Cameroon Film Industry.

She has  a Master's degree in Advertising from the Advanced School of Mass Communication (ASMAC/ESSTIC). Freelance and specialized in the fields of Communication: Advertising, Scriptwriting, Acting, Directing and Film criticisms. Sylveria is a member of National Association of Theatre Troupes, University Theatre Club, Cameroon Anglophone Artists, and  Secretary General of NEWDIFIC .
SYLVERIA AS A WRITER
– Co-scriptwriter of FACING DESTINY broadcast on CRTV.
– Co-written with Doreen Fonju a 79 minutes film entitled ENTANGLED.
° Published in the African Video Collection-Havard College Library.
– 10 short films for STV.
A PRESENTER
° Broadcast on MNET African Magic.

SYLVERIA AS A DIRECTOR AND PRODUCER
-Co-directed ENTANGLED with Doreen Fonju
-Produced LAKESIDE, Executive Producer Albert WANDAGO, Director/Narration Doreen Fonju
SYLVERIA AS AN ACTRESS
-Acted in MY FIRST DEFENCE, directed by BOLE BUTAKE
-Acted in WHO WELL, directed by Donatus FAI
-Acted as Laura in POTENT SECRETS, directed by Ako Abunaw.
-Acted in films for STV, directed by Marie Solange Mbarga (Coming soon).
-Acted in ENTANGLED directed by Doreen Fonju $ Sylveria A. Anye.
-Acted in CITY MASKS as Madi, directed by Kwasen Gwangwa'a for CRTV (Coming soon).
-Acted in HARDROAD TO SCHOOL for CRTV directed by Caroline Kilo Bara.
-Acted in BEFORE THE SUNRISE, directed by Fred Amata
-Acted in BUSH MEAT GO FINISH OH, sponsored by WWF directed by Kilo Bara.
-Acted in Holiday Jamboree and Monday Show for CRTV directed by Kwasen Gwangwa'a.
AWARDS
Film of the Year Award 2008. Short Film Festival (Yaounde Tout Court) Film titled BUSHFALLER, written by Sylveria AWAH ANYE and directed by Marie Solange AMOUGOU and Doreen Fonju.
VISIT HER BLOG

http://awahsylveria.blogspot.com/
Email:awahsylveria@gmail.com