It's often been said that the heart of the Cameroonian resides in a cold bottle of beer, preferably in front of a football match or occasionally on the dance floor of some bourgeois club, and no one knows this better than Street Jay, the self proclaimed king of njoka.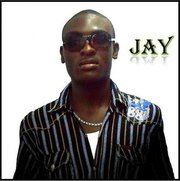 This fun loving, fiesta-friendly Cameroonian is young music artist from Kumbo, Banso and currently resides in Yaounde. His exposure to diverse cultural backgrounds has resulted in a proficiency in at least 3 of the 4 official languages of Kamer; English, Pidgin and Argot (Franc-Anglais), and no doubt forms a basis for his brand of music which is a mixture of Makossa and various types of western music like Reggae.
His peculiar music taste is certainly paying off as he has received quite a bit of attention on local media. The popular Cameroon Hip Hop Association acclaimed him second 'artist of the week', second only to BAAMS. He recently joined this association and once again made a statement with his video rated 'the most viewed video of the week.' His skills and significant influence was once again recognized by the prestigious 100% Jeune magazine which declared him the 'TEEN CHOICE' in the November 2010 edition, and called him 'one of the most rapidly growing young artists in the country' in reaction to the success one of his singles enjoyed on youtube.
In the wake of his public acclamation Street Jay has also proven to be a hard worker. He recently recorded a new track 'Na You (take my Love away)', a reggae love song with his two buddies Ox Demo and Karl B during a two week vacation to his homeland. He has also released a new album titled 'Palava Njoka'. With 6 tracks of mix Njoka and a catchphrase reading "Leave your wahala everybody E go better", the album ultimately encourages all to bury their problems and worries in the joys of the dance, or Njoka. He is currently working on a new album titled 'Crazy Life', and while spoilers aren't available, we'll be sure to keep you posted as developments unfold.
Street Jay describes himself as a youth advocate who fights for social and cultural recognition of youths in Kamer and Africa at large. This 'Musical Moses' says he is sent to "empower all youths and take them all to where they ought to be". Judging from his style, there is no doubt that the 'Promised Land' he refers to is non other than the Dance floor, to the greatest delight of his ever increasing fans who have come to be known as the Njoka People. For free downloads further information on him and his various musical accomplishments, check out kamerhiphop.com, 4shared.com, or join him on his personal website www.streetjay.tk.