It is with the gloaming of glitz and glitter that 118 pound, dark hair 22 years old, semi- professional model
NAOUMIE EKIKO
speeds up her way to the top. Light and shine, gold and diamonds, hard to pick but a talent will always be reached. Finding the inside of her true calling, the
Camerborn
is a virtue of desirable quality, virgin of great chastity yet to unravel the core of her talent.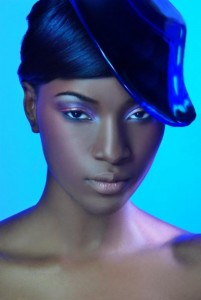 With a slender appearance, appealing style, extraordinary height, it is sure this one is out to globalize her wings. Some are made, some are born, with Naoumie's glide, it is clear she is a born
MODEL
. A glib of her school life in
PHS Kumba, Cameroon,
Naoumie glint what she is today. Besides being the schools songs prefect she participated in every modeling show organized by the school. Much more a child from the suburbs Naoumie has embraced her nature as a
black African
woman respecting her color and her calling.
Naoumie hit the run way in 2007 with the
Mary Kay show
and in 2008, she got a deal with the
Vinky edge
,
Earl Banister
and
Derrick Scurry show
. In November 2008 Naoumie graced the cover of
Flywire Magazine
and this opened her way through as she got her face on the cover of other magazines such as
Niffy
and
Hype Hair
. In 2009 she landed a contract to be the face of
KeraCare products
and another with
Avalon Company
. her 2009 was amazing so much that Naoumie held up the pride of the black African woman as she stood as the face of
"Black Women Are Beautiful".
She made another great move that year as she hit the pages of
Essence magazine
. lets talk about her 2010 shall we ? ok 😉 Naoumie was on the cover of a French Magazine called
FASHIZBLACK
.
Looking at how far she has gone it is only normal to say Naoumie glisten. Back to her roots, she is sure to gloat considering the circumstances of her rise. With speak on an eye; it is hard to tell the height at which Naoumie is striving at. Besides being a lover of music, dancing, sports, T.V, model building, singing and acting, Naoumie is free minded, open to innovation, creative and introspective, she set very high standards for herself and strive to attain.
Nominated as one of Cameroon's most beautiful top 10 celebrities
gives us the distance Naoumie wants to go. With more power to her elbow, the Cameroon-African-American still has a long drive in the modeling World. Catch Noumie on facebook: 
http://www.facebook.com/profile.php?id=518830708