One Heart Gospel Acapella has been in existence for over 5 years  , unique in their scintillating genre of music. Their group is a fusion of Cameroon's finest Acapella groups;  "The Dreams of Africa"
(known for their biggest hit Songs "Gossipers","Decalogue"and "Song to Mama", Lovelyn) and   "The FDENEL" renown for songs like "Na You","Man for all weather" and "Don't lose Faith". These two groups  have relentlessly thrilled Cameroonians until 2007 when they decided to merge while studying in Buea.
Today , "One Heart Gospel Acapella" is a name known in every household in most parts of
Cameroon. Performing in churches, schools and other event venues, they have continued to thrill christians and touched many souls in the country today.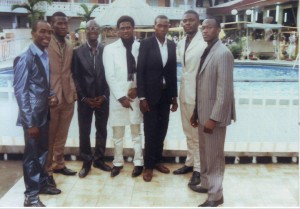 le="color: #000000;">The group comprises 7 multi-talented boys ; Ewah Lawrence (Lead singer of BAAM ), Proxy Buh Melvin (Actor and shareholder of Gold age Ent. and Fahlon Ent.), Teh Reagan (shareholder Gold Age Ent.), Ikoso Elvis (member of Da Thrill and Fahlon Ent.) , Newton Buh aka Zas Ziggi (CEO Fahlon Ent.), Ganye Fon aka Benny (shareholder Fahlon Ent.) and Eric Epeh aka Migg (Actor and lead singer).
One Heart Gospel Acapella is always committed  to do God's work and promote Christian music, inspired by from groups such as 'Knights of Zion','Glory Drops of Cameroon','Vocal Union','Take
Six',Ladysmith Black Mambazo', as well as Acapella classic.
''We are proud to say we are one of the very few groups keeping Acapella music alive today'' .
Enjoy !
Army man God
[audio:http://nexdimempire.com/wp-content/uploads/Army-man-for-God.mp3]
Praise Jah
[audio:http://nexdimempire.com/wp-content/uploads/Praise-Jah.mp3]
Na You
[audio:http://nexdimempire.com/wp-content/uploads/NA-YOU.mp3]
EMAIL: oneheartacapella@gmail.com
Contact # 00237 7581 2835 / 00237 7468 0493
You can also find us on www.facebook.com/oneheartacapella