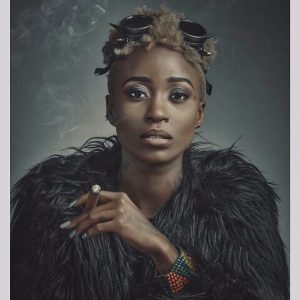 Gasha came to the limelight in 2013 after releasing an effectual debut single "Kaki Mbere" followed by "This life" produced by Pazzo in 2014.
Her unique and unmatched vocal timbre, esoteric genre of music and enthralling soul delivery catapulted her to the pedestal of top class artists in the urban music industry. Gasha established a love-mark , garnered huge fan following across Africa and even clinched an AFRIMMA win for Best Female artist in Central Africa in 2014. In 2015, she released "Chill" with Eddy Kenzo who was one of Africa's trendiest artists at that time after releasing 'Sitya loss'. All these achievements on Gasha.
In 2016 , Gasha traveled to USA hunting for greater success and exploits but it seemed this adventure didn't work for her as planned. While in US , she released "Champion' and later dropped a video of a remixed version of "This life" featuring rapper Law G which made meagre or no impact .
Gasha had parted ways with her former label Steven's ME and was substituted with a young talented songstress called Daphne from Buea-based record label No Hits No Records . Things started falling apart for Gasha. She started craving for a rebound.
In 2016 , the Cameroon music market space experienced an unprecedented change and the growth was fast-paced for Gasha to catch up and rebuild that lost love-mark and trust from fans.
Gasha probably needed a song that could fit into the present trend in a bid to lure music pundits and fans to get back on her rail.
While she was absent from the scene, other female artists had taken the top spots like Daphne, Blanche Bailly, Ewube, Reniss, Mimie, etc and their style of music was 'en vogue' .  Maybe she was " too late Hewitt" .
Gasha resurfaced with "We Still dey" featuring Nabil in 2017 which couldn't convince the ear buds of her music fans.
Gasha has been adopting the blue ocean strategy of creating an uncontested market space to make competition irrelevant which is not working out for her. The indie pop, soul and jazz melange is not currently captivating fans anymore in Cameroon.
With the present state, the Cameroon music industry has a saturated market share bloodied by competition . For Gasha to get back on track, she needs to be commercially competitive with her style of music .
"Back to life" is a new tune under her self-owned Dule'Gasha imprint .
Is this really going to bring her back to life ? Watch below !