"Music is every moment of our lives," says Helene Faussart, one half of the Afropean hip hop/R&B duo Les Nubians. Helene and her sister/bandmate, Celia, found that this feeling connected them with people in Jamaica, Egypt, Cameroon, Chad, London, their native Paris and other locales around the world as they embarked on the journey that led to their newest album 'One Step Forward.'
In the time since their 1999 U.S. debut 'Princesses Nubiennes' (Higher Octave/Virgin) became the most successful French-language album in more than a decade of Billboard charts, Les Nubians' singing sisters have traveled the world, soaking up the sounds of reggae, afro-beat, pop and electronica while collaborating with a host of respected musicians. "Everywhere we went, we looked for music that spoke of the local culture," says Helene. The sisters met and worked with traditional folk musicians, as well as artists at the apex of every genre from Afro-jazz to British breakbeat to Cameroonian hip hop. In addition to working on their own material, Les Nubians appeared on 14 different recordings by an assortment of other artists, spanning the globe and crossing genres – from Towa Tei, Black Eyed Peas and Talib Kweli & Hi-Tek to the acclaimed Red Hot series on "Red, Hot & Riot" and "Red, Hot & Indigo."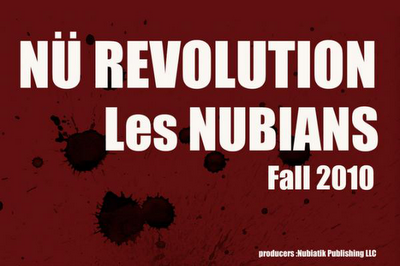 The musical summits gave way to recording sessions in Jamaica, Cameroon, London and at home in Paris, where Helene and Celia were joined by African jazz legend Manu Dibango, pianist Ray Lema, classical musician Benjamin Biolay, dancehall reggae stars Morgan Heritage, UK electronica wizard I.G. Culture, Mounir Belkhir, the poetic producer of the US hit track "Makeda" and more. For Les Nubians, these diverse sessions were a chance to work with some of their biggest influences, while bringing together the music of a wide range of cultures and generations.
Along with learning from these master instrumentalists, Celia and Helene sought to preserve their legacies among younger listeners. "This is so important, especially in Afropean music," says Helene. "Many of the sounds of the two cultures have been separated for so long, but music can be a bridge that helps people meet."
Multi-cultural sensibilities come naturally to Les Nubians. Born to a French father and Cameroonian mother, Helene and Celia learned how to sing at a young age. Inspired by a backstage meeting with jazz singer Abbey Lincoln (who encouraged them to "do it-the greatest thing in the world is to be a singer!"), the group pursued their music relentlessly. Their debut "Princesses Nubiennes" was a successful amalgam of the music they'd experienced during their life travels, combining their African roots with jazzy nuances, funky rhythms and a hint of British soul, all delivered in their uniquely elegant French style. A long and varied list of musical influences are attributed to Les Nubians' distinctive sound, including Miriam Makeba, Ella Fitzgerald, the Fugees, Fela Kuti, and Jazzie B of Soul II Soul.
According to Celia, "Music is a great way to transmit a cultural background. Making this record was, in part, a way for our generation to give tribute to musicians we've looked up to and see that their music gets the recognition it deserves."
Les Nubians were nominated for the 2004 Grammy Awards in the Best urban alternative R&B category, along with Erykah Badu, Outkast, Music Soulchild and Khelis.
Les Nubians are now touring and visiting new countries and territories ready to catch their afropean flavour.
Excerpts ; lepoissonrouge.com