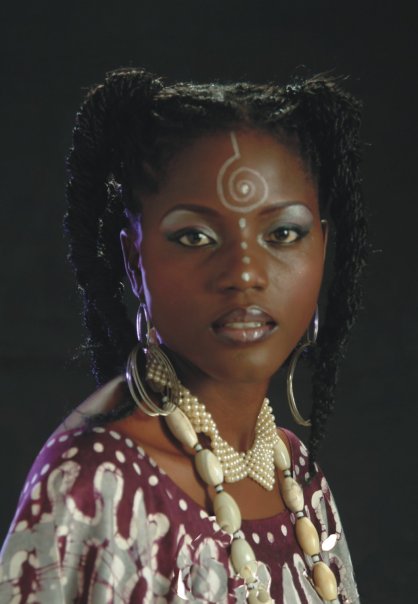 Eka Christa
is best known for the major role she plays in
"Not my Will "
movie. She is very categorical and multi-talented.
NexDim
caught up with this cute Cameroonian  actress and model at
BlueDrops
Studios for an up-close and personal interview about her career  exploits and how she took the role in the movie.
Can you briefly introduce yourself to us?
Eka
: "I'm Christa Eka Assam, mostly called Eka. I am an actress, fashion model and aspiring filmmaker".
How did the journey begin relating to your career as an actress?
Eka
: "As a kid, I'd always been interested in acting but of course, whenever any grown-up would ask me what I'd like to be when I grow up, I'd say something along the lines of a lawyer, doctor or some other "serious" or "important" occupation. I was usually picked to play the lead roles in school plays because of my ability to always put up a good performance and to easily learn my lines. With the advent of Nollywood, my passion for acting grew stronger and I decided I wanted to be an actress full-time. I told myself I was studying accounting just so I'd have "something to fall back on", if my acting career didn't kick up. I started out doing music videos for some artists like Waz Hadji and Tegha. Eventually, I had my first opportunity to feature in a movie in 2006, when I had a role in
"Break-In"
, a movie produced and directed by Mr. Bill Mosah.
"Not My Will
" is the second movie project I'm working on.
How did you become part of the  movie "Not my will' as well as playing a major role in the movie?.
Rumours say the role was not actually meant for you. How did you get to play the role?
Eka
: "The producer and director of the movie is a friend of mine and he told me about it but at the time, he already had people casted for all the major roles. He gave me the role of a radio presenter in the movie and I decided to take it. After going through the script, I came up with some ideas which he liked so he let me edit the script. After sharing more ideas about the story, he offered to let me be his assistant director, something I'd never imagined would happen at the time. I gladly accepted because I knew it was going to be a good opportunity for me to learn about the different aspects of filmmaking I'd always been curious about. On the first day of shooting, we had decided to shoot a night scene in which the protagonist in the movie, Nalo is attacked by a thug. The shoot was scheduled to start at 10:00pm. Unfortunately, we had a blackout which lasted for about an hour. By the time power was restored, we couldn't get through to the girl who had to play Nalo's role. We tried calling her cell phone but she wouldn't pick up, so the producer/director asked me to step in and take the role. At first, I didn't want to because I thought it wouldn't be fair to the girl who had to play the role but in the end, I had to because there were too many things at stake. So, I'd say humility and hard work are what got me the main role in this movie. I was slated to play a role that initially required me to appear in one scene but that didn't stop me from contributing my ideas and putting in the best of my efforts to make sure the project would be a complete success. Now, see where it got me !"
-How challenging was the role you played in the movie?
Eka
: "It was a little bit of a challenge because Nalo's character is so different from the person I am in real life. I had to do things I wouldn't do but then, that's what acting is all about.  Being able to portray whatever character you are given convincingly enough and giving your viewers an outstanding performance".
How was your relationship with the director of 'Not my Will'
?
Eka
: "My relationship with the director of 'Not My Will' has always been very cordial. I knew him before I got on the project and after working with him I have a lot of respect for him because he is very talented, focused and driven. He is dynamic, always ready to listen to the people he works with and he takes all our ideas into consideration when making decisions and that is really good for our motivation. I know that he is going to be a force to reckon with in the film industry in Cameroon".
-What's the impression your parents have about your career?
Eka
: "At first, my parents didn't expect me to take my career as an actress so serious. They thought it was just going to be something I'd do in my free time. When I made them understand it was something I wanted to do full time, I'm happy to say they've supported me fully. Even though sometimes, doubt sets in and they try to get me to do something more "serious", they've always stood by me. In fact, without their support, I don't think I would have made it this far and I will be forever grateful to them for their support and encouragement".
Are you committed to doing this for life?
Eka
: "Definitely! There's nothing I else I can see myself doing. This is my passion, this is my profession, this is my life!"
What else do you do now apart from acting? I know at some point you were marketing some cooking products.
Eka
: "Apart from acting, I do some scriptwriting, commercial modeling, MC shows and I do commercial voice-overs. Actually, the cooking product you're talking about is a product I was carrying out a marketing campaign for and I was the model featured on the posters used to advertise and promote the product ".
Can you sing? I once saw you in a music video.
Eka
: "I can sing, yes but not professionally. I really love music. The video you saw me in, I was merely acting".
–
LOL.Hmm! that was some great impersonation.You did it so well.
–

How do you cope with your fans?
Eka
: "My fans are very important to me because they are a source of inspiration and encouragement. I hold each one of them very dear and I always strive to do my best to make them proud".
-What is your impression about the Cameroon movie industry?
Eka
: "With what I know, and have seen so far, I think the Cameroon film industry has a lot of potential for positive growth. We have so much talent in all the areas needed for a successful film industry; producing, directing, acting, editing, scriptwriting, costumes etc. I think what we need now is professional training in the different fields involved and investors who're willing to put their money in the industry so we can get better equipments and get the much needed professional training, amongst other things".
-Does the infiltration of Nigerian movies in the Cameroonian market deter growth?
"I don't think so. First, I think Nigerian movies have helped us in getting the public to recognize and accept what African filmmakers can do. What is left for us in the Cameroon film industry to do is NOT to copy what the Nigerians are doing because I think we would fall short. They are masters at their game, I must say and I applaud them for what they've been able to achieve so far. I think we should come up with our own unique style of filmmaking and make a name for ourselves. We have enough talent to be able to achieve that. The main hurdle we'd have to cross is getting Cameroonians to have confidence in and accept Cameroonian films, by doing quality productions. Once we can achieve that, I think there's enough space in the market for all of us to fit in; Cameroonian, Nigerian, Western, Indian…"
Eka
: "My role model as an actress, I'd say is
Meryl Streep
. The fact that she is able to interpret so many diverse roles so perfectly is nothing short of amazing and inspiring to me" .
-After the release of "Not my will" .What will be next on your agenda?
Eka
: "I'm currently working on a script for a short movie which I intend to shoot when I'm done with my work on "Not My Will". At the moment, I think it's best for me to proceed cautiously".
-What have been your worst and best moments of your life?
Eka
: "The most heart-wrenching moment in my life was the day I lost my sister".
Eka
: "I am at my happiest when I'm surrounded by family, friends, laughter, food and music; when I'm surrounded by love and warmth".
-If you get rich today what humanitarian act will you deliver to your community?
Eka
: "Taking care of orphans, widows and the needy in general is something I've always wanted to do. In whatever way I could help, I gladly will".
-Let's get personal. Are you married?
Eka
: "Married? No, not yet. Right now I'm all-consumed with trying to establish my career".
-What's your most delicious Cameroonian dish?
Eka
: "I don't know for sure but I love pepper soup a lot. I love spicy food".
-What kind of music do you have in your Ipod?
Eka
: "Basically, I listen to anything that moves me; anything that makes me want to cry or makes me want to dance. I love Gospel songs, soul, anything Dancehall, hip-hop, R&B and of course the Naija hits. Not forgetting Coupe Decale and Makossa" .
-What message do you want to pass across to the world?
Eka
: "First, I'd say before you set out to achieve anything, believe in God, believe in yourself and believe in what you want to achieve because when you find yourself in a tight spot, it's that belief which keeps you going. Whatever you do, do it to the best of your ability because you never know where it may lead you. Trust me on this, I have had first hand experience. Humility and hard work are a sure path to long-lasting success. And remember, anything you do which does not lead you TOWARDS your goal, leads you AWAY from it!"
-It was nice having you on Cameroon entertainment House
.
Eka
: "Thank you too, for having me".
Contact management: info@notmywillmovie.com