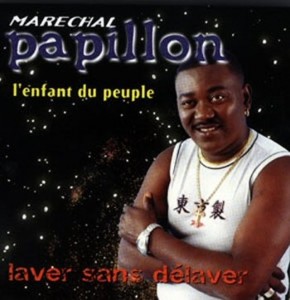 Marechal Papillon was very categorical on a prime time TV show on Equinox TV today Sunday 28th December when he said he'll strip himself naked and make a march to the governor's office if the problem of the association of authors rights is not resolved by the minister of culture Ama Tutu Muna. He stated strongly that there must be someone to sacrifice like Mandela before a change is effected and he'll take the bold step.
In order for the putrid cultural system to be purified, he has to take the risk, regardless of imprisonment.
He decried the fact that after 25 years of his career and experience, he has been very disappointed with the misappropriation of funds and shameful management of the cultural sector in Cameroon. He cited the fact that the minister spent 300 million to buy a car podium which has been abandoned at the ministry's premises , money which could be invested in the construction of a befitting concert hall in Cameroon. The distribution of  guitars to musicians to Papillon  was very unnecessary. All these manoeuvres he says is to justify the use of funds.
" Le ministère de la culture a acheté un matériel de musique à 2 milliards…"Cessez de distraire les fonds des Camerounais" dit Papillon…
He was very vocal about the issue of piracy which the ministry is making no efforts to check. A quintessence is Senegal where piracy was curbed by Yousou Ndour by instituting an organised structure in charge of distributing CDs upon release.
He blamed the poor management and lackluster attitude of the ministry of culture for being responsible for the infiltration of foreign music in Cameroon and the payment of huge sums of money to foreign artists invited to perform in Cameroon by telephony companies. The ministry of culture has vehemently failed to sensitize Cameroonians about the necessity of being patriotic and valuing their culture. The ace Makossa musician calls for experts to be appointed to run such ministerial positions.
He called some Cameroonian artists maggots and unprofessional -"Artistes asticots".