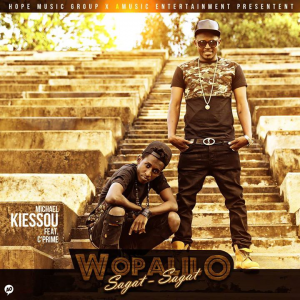 Michael Kiessou has created a powerful impression in the urban music scene in Cameroon with successive hits "Abele", "Bennam" and "Tourner Les rein".   Regretfully the incredible entertainer announced his resignation from music  on Christmas eve. The news ignited shock waves running on social media, as fans aired their disbelief. It also sounded as a promotion stunt for his impending video "Wopalilo" slated to be released on January 3rd 2015. This announcement came when he was about completing his "Wopalilo tour".
Nexdim recently received a press release from Hope Music on this issue.  The label officially sends out an apology to the fans for such a status posted by Michael Kiessou on Facebook and promises keep him on track. The artist has continued promoting his new single on his official Facebook page.
Communiqué de presse
Acteur incontournable du paysage musical cette année, Michael Kiessou a annoncé avec regret ce 24 décembre l'arrêt de sa carrière d'entertainer.
Le label Hope Music Group s'excuse auprès de l'opinion nationale et internationale car nous savons que vous avez été choqué par la décision de Michael Kiessou. Tout comme vous, grand était notre étonnement face à cette décision à laquelle on n'a pas été associé. Notre artiste a connu une série de tristes évènements compromettants pour sa carrière, et qui malheureusement ont eu raison de son moral et de la forte personnalité qu'on lui connaît. Nous ne souhaitons pas nous étendre sur cela, mais retenons la promptitude avec laquelle vous êtes arrivés à son chevet et nous vous en remercions.
Néanmoins, de notre statut d'institution professionnelle, nous avons pris des engagements contractuels pour la carrière de Michael sur du long terme et à cet effet nous tenons à rassurer nos partenaires, le public camerounais et du monde entier que nous comptons bien les honorer.
Bien qu'il vit une passe difficile, Michael a peut-être oublié que sa vie ne lui appartient plus complètement mais à vous tous. C'est pour cela que nous sommes déterminés à lui apporter notre soutien tout entier et vous promettons de tout faire pour qu'il revienne à de meilleurs sentiments. Nous l'avons sommé de supprimer ses posts sur sa page officielle pour son propre bien et pour ne pas d'avantage attrister ses fans.
Nous vous rassurons que grâce à vos conseils et soutien, il se remet et compte y faire face. Nous avons remarqué qu'une motion de soutien a été lancé par ses fans et amis sur les réseaux sociaux à travers le hashtag #MICHAELKIESSOUDONTSTOP #MKDS. Et pour cela nous vous en remercions grandement.
Franck Ghislain Onguene
Responsible de la communication ET des RP de Hope Music