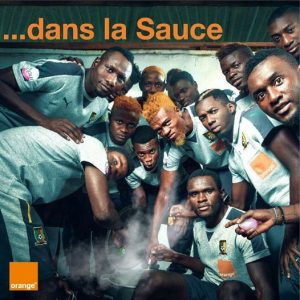 New Bell Music's Reniss has been basking in glory since the release of her monster hit "La sauce". The captivating and thought-provoking  yet controversial phrase "Dans la sauce" was a remarkable trend during the just ended African Cup of Nations in Gabon championed by Cameroon. This phrase invented by New Bell Music went viral on media platforms across Africa and the President of the republic Paul Biya during his congratulatory speech equally made use of the phrase. 
Orange Cameroon,  a telephony company has taken advantage of the buzz "Dans la sauce" to proliferate their promotion campaign without permission from Jovi nor the artist Reniss who created the idea. Thus violating their intellectual property right.
Immediately this campaign surfaced online, New Bell Music has released a statement on Twitter condemning the act by the communication company and further threatened it won't be easy on them.
"New Bell Music is protective of our intellectual property. Corporations don't have to exploit artist's ideas for their own gain" 
Legally, if the patent has been protected by New Bell Music,  this is what can happen. 
A patent owner may enforce his patent by bringing a patent infringement action (lawsuit) in court against anyone who uses his invention without permission. If the lawsuit is successful, the court will take one of two approaches. It may issue a court order (called an injunction) preventing the infringer from any further use or sale of the infringing device, and award damages to the patent owner. Or, the court may work with the parties to hammer out an agreement under which the infringing party will pay the patent owner royalties in exchange for the use.
Affaire a suivre…