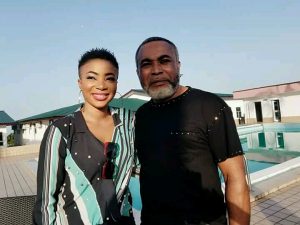 Rumour was rife on social media of an alleged sex scandal involving Nigerian veteran actor Zack Orji  and Cameroonian actress Soli Egbe.
After the outpouring which victimised the young actress, a prank video surfaced online of her simulating sex which was seemingly a PR scheme. 
Fellow actress Solange Ojong found herself dragged into this quagmire .
 Solange Ojong was mistaken for Soli Egbe as a clue was given by Valery Atia that the victim's name starts with an "S". 
However, the blogger Henriette Thatcher apologized publicly to Solange Ojong. 
Soli Egbe has come out to debunk all allegations against her . According to her post, the alleged sex scandal is an attempt to smear her reputation and give a bad image about the Cameroon film industry.  Read below