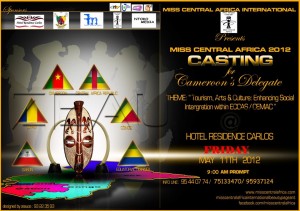 Cameroon just grasped a privilege to host the inaugural edition of  Miss Central Africa International .  This  maiden edition  which has as major objective to use arts and culture in the enhancement of  social integration within the CEMAC states will run in Cameroon, Equatorial Guinea, Democratic Republic of  Congo, Chad, Gabon and Central African Republic . The officially crowned pageant from each state will travel to Cameroon for the grand finale  to take place in July. It's therefore  imperative for Cameroon to give this event the allure and beauty it deserves.
Selection is currently going on for those who are interested to participate. On the 11th of May, 9 pm prompt,  at Hotel Residence Carlos in Buea , there shall be a pre-selection of 10 candidates who will proceed to the final competition of Miss Central Africa Cameroon.
Registration fee is 2000frs
More information is available on the official website:
Facebook page : Miss Central Africa
EMAIL; misscentralafrica@gmail.com
or call
237 95 44 07 75/75133470.