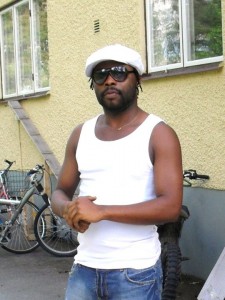 Swedish based Cameroonian makossa, zouk love, and world music artist Microsoft Frank Bila presently is in Cameroon for the recording and production of his upcoming album, title still to be decided (says you don't name a child till after his birth).
The uprising singer does his thing in french, English, Duala and pidgin English and his sixed-tracked album has titles like 'Blue world', 'La fete', 'Maman', 'Mauvais mari'. Back in his school days in the University of Dschang Cameroon, Frank Bila used to sing in the school orchestra and has taken part in the Buea University cultural festival of 2003 leaving with a gold medal. His role model is none other than makossa king Petit Pays. Putting much efforts day in, day out at M1 studio, his album will be released any time soon.
Nexdim  promises to bring you more updates on Bila.