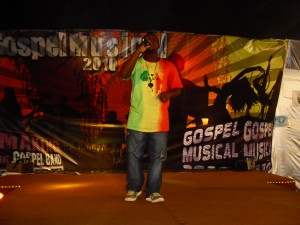 Hey people, the first indigenous gospel music talent search in Cameroon, Gospel Musical 2010 "Making the Gospel Band"  powered by DRIMP Foundation is gradually getting to it"s acme . The second episode was shot at KAMTHE HOTEL , Yaounde yesterday, Sunday thrilled by guest artists ; Stipac and Bright Phase.

It was apparent that most candidates improved on their performances in a bid to convince  judges  Papa T.D Rolland, Odile Ngaska, Uncle T and Salif . Strikingly, all candidates received much love and acclamation from the audience and judges  but there shall be more to prove next week as some candidates will definitely be evicted .
Please log on to The official YOUTUBE Channel for GOSPEL MUSICAL "Making the Gospel Band  online casino promotions AND WATCH ALL performances

http://www.youtube.com/user/TheGospelMusical

Just to let you know that the show will henceforth be broadcast on CRTV ; SATURDAYS  @ 3 : 30 PM
The following contestants are vying for the Top 5. Keep your favorite in the competition by sending a text of their letters to 8068.

=L


= N


= D


= S


= C


= G


= H


= A


= B


= E


= F


= P


= K


=I


=R


= M


= J


= O


e = Q

JOIN the official FACEBOOK PAGE of GOSPEL MUSICAL and get latest updates. Your comments shall equally be welcomed.
http://www.facebook.com/pages/Gospel-Musical/113759505305273
NexDim report