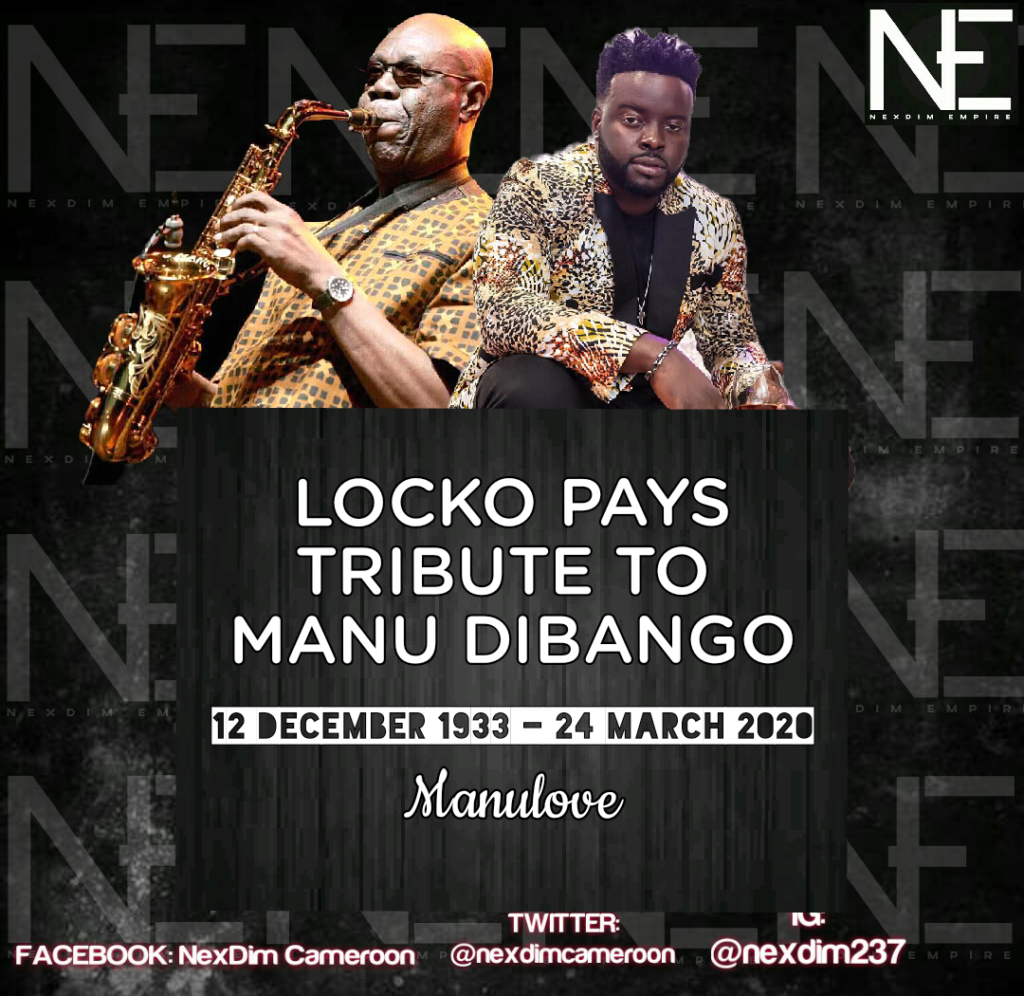 Singer Locko has paid homage to Manu Dibango in Episode 4 of his "Locked Up" opus. The song produced by Phillbill, is a harmonious melange of R&B , Makossa and jazz. The video was directed by Chuzih Chuzih
Legendary Cameroonian saxophonist and songwriter Many Dibango succumbed to COVID-19 in France on the 24th of March 2020, leaving a vacuum on the international music landscape. His funeral was limited to 20 persons in strict privacy.
Emmanuel N'Doké was internationally recognized as a musical sage as he developed a unique musical style by embroidering funk, Jazz and Makossa. His music had a global appeal; his disco hit "Big Blow" (1976) amassed an exponential following in UK.
He was nominated at the 26th Grammy Awards in 1974 for Best R&B instrumental performance and Best Instrumental Composition for "Soul Makossa".
Soul Makossa influenced songs like "Jungle boogie" by Look and the Gangs and  the 1982 parody song "Boogie in your butt" by Eddie Murphy.
In 1982, Michael Jackson plagiarized an excerpt of "Soul Makossa" in "Wanna be starting something" off the album 'Thriller' . After being sued, Jackson conceded and resolved the matter out of court.
In 2006 "Reggae Makossa" became a soundtrack of the video game "Scarface: The world is yours" .
In 2007, Rihanna used the same line in "Don't stop the music ".
He made made his 80th Anniversary appearance at Olympia , France in 2014.
On 24 March 2020, Dibango died from COVID-19 in Melun near Paris.
R.I.P Legend ???
Enjoy Locko's 'Manulove'
MANU DIBANGO's Discography
Saxy-Party (Mercury, 1969)
Manu Dibango (Fiesta, 1971)
Africadelic (Mondiophone, 1972)
Soul Makossa (Fiesta, 1972)
O Boso (Fiesta, 1972)
African Woodoo (PSI, 1972)
Makossa Man (Fiesta, 1973)
Super Kumba (Fiesta, 1974)
Countdown at Kusini (D.S.T., 1975)
Afrovision (Fiesta, 1976)
Manu 76 (Fiesta, 1976)
Bande Originale du Film Ceddo (Fiesta, 1977)
A L'Olympia (Fiesta, 1977)
L'Herbe Sauvage (Fiesta 1977)
Anniversaire Au Pays (Fiesta, 1978)
Le Prix De La Liberte (Fiesta, 1978)
Home Made (Fiesta, 1979)
Gone Clear (CRC, 1980)
Piano Solo Melodies Africaines Vol. 1 (AfroVision, 1981)
Ambassador (CRC, 1981)
Waka Juju (CRC, 1982)
Mboa (AfroVision, 1982)
Soft and Sweet (Garima, 1983)
Deliverance Live in Douala (AfroVision, 1983)
Surtension (Garima, 1984)
Melodies Africaines Vol. 2 (AfroVision, 1984)
L'Aventure Ambigue (Carrere, 1984)
Electric Africa (Celluloid, 1985)
Manu Invite… Akofa Akoussah Au Togo (Blackspot, 1983)
Afrijazzy (Soul Paris, 1986)
La Fete a Manu (Buda Musique, 1988)
Negropolitaines Vol. 1 (Soul Paris, 1989)
Comment Faire L'Amour Avec Un Negre Sans Se Fatiguer (Milan, 1989)
Polysonik (Fnac Music, 1990)
Live '91 (Fnac Music, 1991)
Bao Bao (Mau Mau, 1992)
Wakafrika (Fnac Music, 1994)
Lamastabastani (Soul Paris, 1995)
Negropolitaines Vol. 2 (Soul Paris, 1995)
Papa Groove Live 96 (Wotre Music, 1996)
CubAfrica (Melodie, 1998)
Manu Safari (Wagram, 1998)
Mboa' Su Kamer Feeling (JPS, 2000)
Spirituals (Bayard Musique, 2000)
Kamer Feeling (JPS, 2001)
From Africa (Blue Moon, 2003)
Homage to New Orleans (Goya, 2007)
Lion of Africa (Global Mix, 2007)
Past Present Future (BorderBlaster, 2011)
Ballad Emotion (Konga Music, 2011)
Balade en Saxo (EGT, 2014)
#nexdimempire