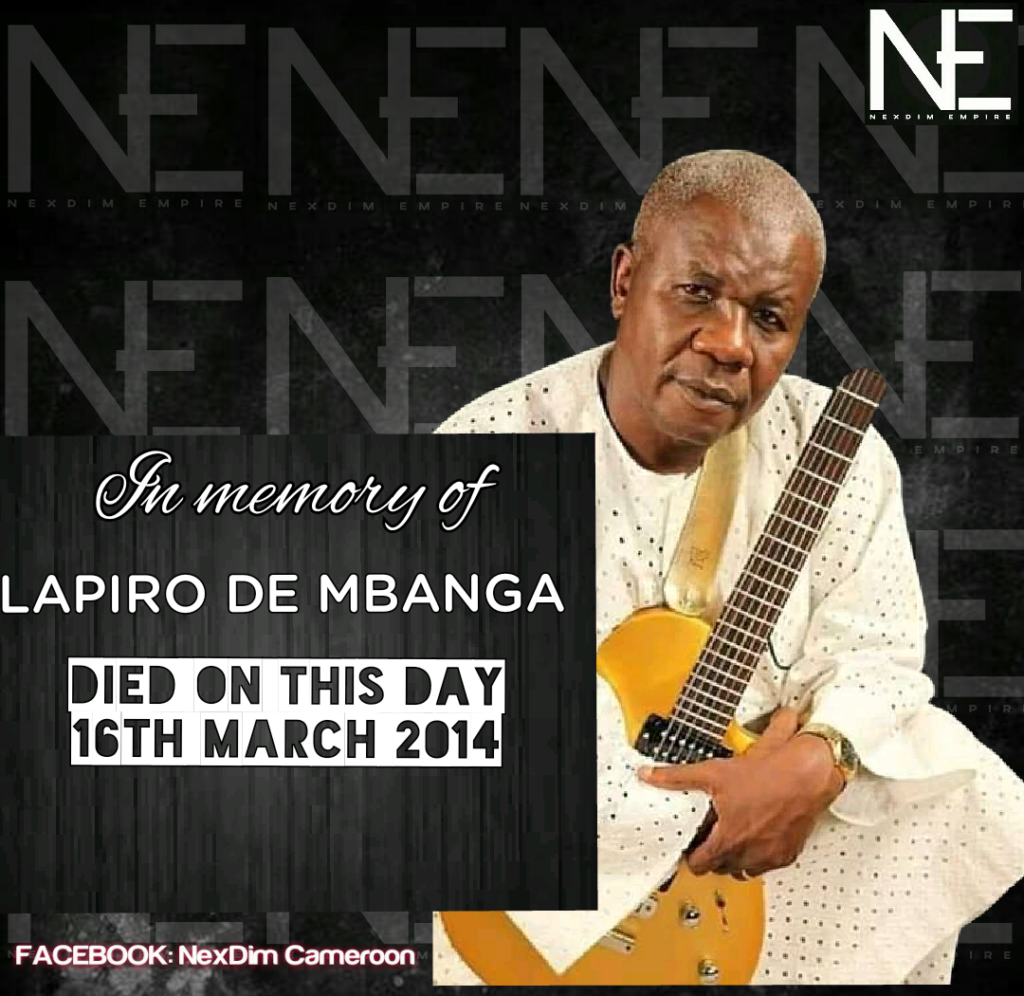 Lambo Sandjo Pierre Roger popularly known by the pseudonym Lapiro was born on April 7th , 1957 in Mbanga. LAPIRO is an acronym abbreviating his name Lambo Pierre Roger. He was also monikered "Ndinga man" and "Ngata man" . He was married to Louisette Noukeu.
Lapiro was an adept guitarist and conscious lyricist whose music enjoyed wide admiration.
His music career gained traction in 1978 when he released "Pas d'argent , no love " produced by Moussa Haissam.
The fearless singer became the idol of the downtrodden and oppressed as his songs echoed the struggle for democracy of the late 80s and 90s.
After his return from self-imposed exile in Nigeria and Gabon in 1985,  Lapiro de Mbanga was a persistent thorn in Cameroon's political landscape.
During two decades, the singer composed a long list of stinging satirical songs on the socio-economic and political realities in a beleaguered Cameroon.
He uses a melange of pidgin, English, French and Duala to articulate the daily injustices  he witnesses . He dubbed his style "Mboko " , which abounds with rich imagery , allusions, humour and metaphors,  to paint a visual image of mal-governance. Contemporary artists like Jovi , Mic Monsta , Tzy Panchak have paid allegiance to the legend through their lyrics .
Lapiro's biting songs – "No Make Erreur", "Pas argent no love", "Kop Nie", "Mimba We", "Na You"   flirted with censorship and provoked the ire of government officials.
In 2008 , his musical composition  "Constitution Constipée" faced antagonism from Cameroon's justice system. He defiantly released the protest song denouncing the amendment of the constitutional clause, which limited presidential mandates to two non-renewable seven year terms. The lyrics poked humour but instilled wrath as he called for the president to step down; "since the pancho (old man) don taya".
"Constitution Constipée" was banned from the television and radio networks.
Coincidentally , there was a rallying cry for thousands of youths, university students and workers who took to the streets in February 2008.
Lapiro was arrested on April 9th, 2008 and accused of inciting violence and arson.
In September 2008, he was sentenced to three years in the New Bell prison , Douala. This could be extended by another 18 months if he continues to refuse to pay the fine of 546,000 FCFA.
Pining at New Bell Prison,  Lapiro's health started deteriorating. He complained of a typhoid attack in December, along with respiratory problems and lumbago. He complained the sanitary conditions were reportedly poor in cell number 18, which he shared with 50 inmates.
In early July 2010, "Index on Censorship" contacted Lapiro de Mbanga on his cell phone. He showed utter determination to continue his struggle amidst the persecution;
" It's all part of my struggle. If I was the scared type I would never have started singing in 1985. I'm not going to start getting scared after all these years. My struggle has always been to denounce inequalities and danger is part of that mission. The only thing that has changed for me since 1985 is I'm at the head of a family with six children. I can guarantee my own security, but not theirs. I'm scared for them. But I have no choice. If you start such a struggle, somebody must pay. Still, my family is unhappy with such risk taking. That's why I think if I don't go into exile after this prison term, I won't survive very long out there – they'll kill me. Because it's obvious people in charge don't want to be confronted with somebody who stops them from just getting on with things"
Lapiro de Mbanga was offered bail by the Supreme Court on March 17th , 2011 but he refused the offer. He was finally released from prison on 8 April 2011, one day before the official end of his sentence.
On 2 September 2012, Mbanga, his wife, and three of their children left Cameroon for the United States, where they had been granted asylum. They arrived in the US on 14 September. Just few days later, Lapiro was rushed to The Buffalo Oncology Hospital with sickness and acute abdominal pain.
While admitted , he was painted by British painter Paul Piercy and these are the words Lapiro inscribed on the painting ;
"I am Lapiro Paul Piercy thanks to immortalise me forever. Lapiro free from prison"
In 2014, Lapiro died of cancer in Buffalo, New York.
Lapiro "Ndinga Man" fought a good fight .
R.I.P
Penned by Nexdim
#nexdimempire