Just like other aspects of the African social construct,urban music ,precisely hiphop,has been trying to make a place for itself under the African sky.After the initial ferocious resistance it encountered from elders, some people thought it wise , for easy acceptability, to africanise it  by dubbing it Afro-hip hop. Now, let's be clear this naming was both automatic in a way, an african doing hiphop would automatically call it "Afro-hip hop". But that's not the issue.What then is the issue?
What makes hiphop in Africa, and by ricochet Cameroon, deserve the appellation afro-hiphop? Is it because the ambassadors of this genre are all African ,are in Africa,use African languages or paint African pictures ?
The answer is certainly not easy. But some one humbly submits here that it is a misnomer because the chunk of these artists don't sing in African languages.They may well live in Africa but most dream of sneaking away.They sing of bling and jets whereas we live in tins and ride in "bendskins and opeps" .
Hip hop as a movement has evolved alongside culture. It's proponents have dug from their culture to define and refine it. Afro-hip hop ,on its part, has generally not been fueled by African culture. In the music of the noisiest afro-hiphop artists, African rhythms,whose presence should justify and underpin the appellation afro-hip hop, are faint if not absent.We are thus compelled to listen to unsuccessful attempts at copying Lil Wayne's latest beats .Very few afro-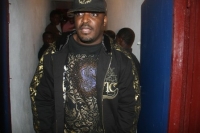 hiphop artists have justified the existence and use of this appellation.They have given it credibility by injecting generous doses of african rhythms into their music.The africanness in their hip hop is blatant and waltzes beautifully alongside American hip hop beats.
Take Krotal's hit "Vert,rouge,jaune" for example, listen to the bikutsi touch therein through the drums. Hip hop in Africa has a credibility issue because it wants a distinct identity from its parent, American hip hop.That is not a bad thing but to have such a privilege, the artists have to be more than copycats. Afro should drip from all aspects of their hip hop. By the way, African artists do reggae but I've never or hardly heard the expression afro-reggae, hope you catch  my drift.