Seven countries have been slated to host the 9th Edition of this competition.  Victoria Nkong Remi, production manager also assistant to the promoter of the Kora awards Ernest Coovi Adjovi has been in  Cameroon for several days to visit the facilities, infrastructure and meet with officials of the Ministry of Culture. She visited the Yaounde Sports Complex and Palais de Congres and concluded both structures can host the Kora awards. "We must continue to meet our standards, we have a reputation to maintain" .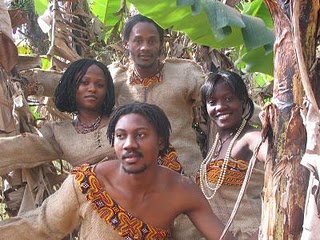 We  also learned during that press conference that the Buea-based group, Bright phase, representative of Cameroon at the Kora Awards 2010  prompted the organizers of the forthcoming competition to visit Cameroon. Created in 2008, this group of three singers were eliminated in the semi-finals. According to Sylva Bright, Bright Phase leader: "If the Kora Awards is organized in Cameroon, it will help promote local artists, boost tourism and create jobs. "
Odile Ngaska, president of Socam, evoked the same reasons : "It is a competition that will raise the level of music in Cameroon."
Is the Kora Awards still credible?

After five years of absence, a smashing start in South Africa, an abortive attempt to relocate to Nigeria and 'missed out' in Burkina Faso, the Kora Awards have lost much of its credibility. Established in 1994 in South Africa by the Beninese  Ernest Adjovi, the Kora awards was  first aired in 1996 in 45 countries in Africa, Europe and Asia. They had as aim to boost the image of African music on TV.
At its debut in South Africa, the competition was very famous. Stars like Michael Jackson, Will Smith, Miriam Makeba, and personalities such as Kofi Annan and Bill Clinton have once been invited to witness this event. After ten years, relations between South Africa and Ernest Adjovi deteriorated. The Kora Awards disappeared from the scene. Three years later, the competition was reborn from its ashes and was announced to take place in Lagos, Nigeria in 2008. A few days of the event, the it was canceled.  President of Burkina Faso, Blaise Compaore agreed to host the Kora Awards. Expected to take place in 2009, it finally held in 2010. The evening of April 4 in Ouagadougou was tarnished by the lack of award-winning artists, including the Nigerian duo P-Square (best music from Africa and the Diaspora)  with a million dollars to take home. In addition, the American rapper Akon, who was guest of the evening, did not show up.