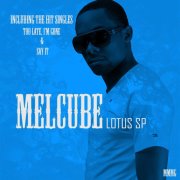 The Cameroonian hiphop scene is alive with artists making hits and others preparing their hits. One of those who is putting together a cocktail of hits and club-bangers for fans is Melcube. As  an artist and performer, the guy has shown his worth in more ways than one. In the following chat with Nexdim's Sarah, the artist opens up about his life and music.

Nexdimempire.com: Hello Melcube, how are you doing?
Melcube: Awesome! I couldn't feel any better.
Nexdimempire.com: Can see you've been doing a lot of work on your album Lotus SP, so how is it coming along?
Melcube: Strong! I mean, in a few weeks from now the album will be available on the market. What much more can I wish for? It's been a lot putting this together; I think it's time for the public to get blown away.
Nexdimempire.com: What words would you use to describe Lotus SP to all those out there?
Melcube: Great piece of art! That's how I like to look at it. Far from what most artists try to do around here, Lotus SP is different.
Nexdimempire.com: Looking at the Cameroonian music scene in particular and its entertainment industry in general, how far do you actually see yourself and Lotus SP especially?
Melcube: I know just how things are around here, but like my friend Otto would say, "If you can't fix it don't complain". That's why I will only tell you that if I get this right, I will be the first ever successful Hip Hop artist from Cameroon, to open the doors for others to walk through. And for LOTUS, the best Hip Hop album ever to drop in Kamer. Thank You!
Nexdimempire.com: From that point if you're given an ultimate chance to make a remarkable change what would that be?
Melcube: I will do all I can to reform the music industry as much as I can by first opening up a label (MMMG) to help spring up talented unsigned artist. This way, people with musical skills will be able to make a living doing what they do best.
Nexdimempire.com: Speaking of MMMG, tell us more about it?
Melcube: MMMG or Tripple MG as I like to call it is a short form for Mic Maniacs Music Group. This is a label I intend to open up to help bring to light talented people from Cameroon.  Not yet in action but soon to be. You just stay tuned.
Nexdiempire.com: Besides music what else are you into?
Melcube: For now, all I do is music. But in the short while, I will be putting on my entrepreneur suit. I think I have a responsibility to proof to the public that there is a lot of potentials in here. And that's what I'm a do.
Nexdimempire.com: How do you cope with managing?
Melcube: It has not been easy, but I have been receiving a lot of help from my close friends and family. And I want to use this opportunity to say thanks to all those who have been with me till now. The journey is not over, but we are almost there. Believe me.
Nexdimempire.com: Are you married?
Melcube: Nope! I am as single as the letter "I"
Nexdimempire.com: Learnt you studied law in the University of Buea, how come you into music now?
Melcube: Well emm, how do I explain that. I think if you have a gift, it stays with you no matter what you do or where you go. I guess that's what happened to me.
Nexdimempire.com: Who in the music world inspires you the most in your life and why?
Melcube: At this time, I will go with Lil Wayne. Not because he can say anything in his rap and get away with it but because he has successfully put together a team which for the moment is totally unbeatable and yes, he is the only one who can wear green astronaut shoes and make them look cool on TV. I respect that.
Nexdimempire.com: You've given out Lotus SP ,what next should we be expecting from you and maybe when?
Melcube: Lotus SP is what I will like to term the beginning of "GOOD MUSIC". By December this year and for the rest of my time here on earth, expect more good stuff from me. Believe that.
Nexdimempire.com: It's been a pleasure chatting with you.
Melcube: The pleasure was all mine my dear, all mine.