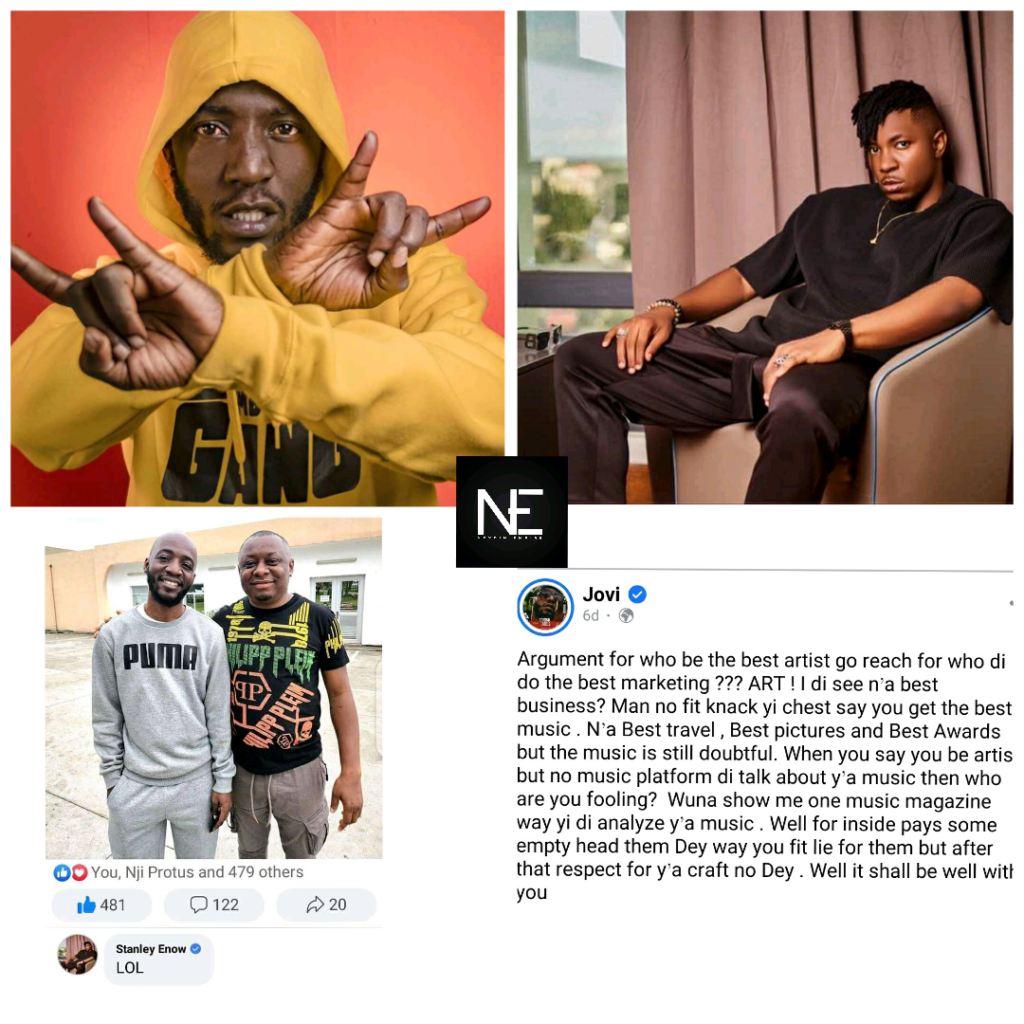 What does it mean when Jovi makes allusive innuendos: "From now na award way we go di play for speaker" and "Show we review of your music"?
What's the meaning when Agbor Gilbert makes a post that Jovi is undoubtedly the biggest artist in Cameroon Urban music and Stanley Enow reacts with a "LOL" and later with a love eyes and laughing emoji in the comment section?
It's a discursive practice with connotative meaning.
Jovi's post shows he is admitting the fact that Stanley Enow has considerable competitive advantage over him in terms of recognition, exposure and saleability. By asking Stanley to show a review about his music, he is confident his music has a landslide competitive advantage over Stanley Enow.
Jovi's music has been reviewed by America's top magazine "The Faders" and by Quincy Jones' "Vibe Magazine". This is probably what he's referring to in order to discursively exert dominance over Stanley Enow.
Stanley Enow's reaction to Agbor Gilbert's post implies Stanley is subtly disapproving of what Gilbert is saying.
The war between Jovi fans "Mboko Gang" and Stanley Enow fans is simply a problem based on ideological differences; as to what they perceive as dominance or supremacy. The feud will be perennial as long as such ideologies remain unchanged. For Jovi fans it's the music and for Stanley Enow fans it's the show business.
Stanley Enow has never backlashed Jovi's music which means he acknowledges Jovi is super-talented. So, for Jovi to keep proving a point that he's musically superior to Stanley is undebatable. Stanley Enow is not just accepting that Jovi is a bigger artist based on his talent alone. To some people the music gives you the value and worth while to others the brand exposure is more valuable.
The truth is evident but we just keep fighting purposelessly.
The bitter truth is: Jovi revolutionized urban music in Cameroon and uncovered the trend of creating relatable lyrics in pidgin, which he dubbed "Mboko". Jovi instilled credence in Cameroon urban music at a time when the future was bleak. He influenced international media to build interest in Cameroon urban music allured by his originality and uniqueness.
Jovi deserves that pride of place and anyone who repudiates this assertion is being dishonest.
Jovi is not flawless, the fact that has he has mentored and produced artists like Reniss, Pascal, Tilla, Tata, etc is a laudable impact in the ecosystem. He has succeeded to create a distinctive sound and lyrical style that has inspired a myriad of rappers across Cameroon. That's how impactful Jovi has been.
Jovi's ideological practices and atypical way of approaching show business doesn't place him on the soft spot of everyone's heart.
Jovi left Cameroonians in awe when he turned down an MTV Award nomination in 2016. This is an opportunity an eager beaver or ambitious artist will grab without a second thought. Artists usually use such events to network with media outlets, labels and pitch collaborations with international artists. It all settles on the unconventional thought system he wields.
Jovi has turned down so many international shows and endorsements that would have been sterling opportunities to expose him to a wider market. He has slighted avenues where he could have networked to brandish Cameroon internationally.
Jovi's musical adroitness is out of this world. So imagine he leveraged the opportunities that presented themselves.
In essence, Jovi advertently refused to do what fans consider a paradigm of success. He decided not to be "omnipresent" to leverage every opportunity that would've immeasurably contributed to the success of Cameroon urban music. Things might have been different if Jovi capitalized on the opportunities that came his way. Imagine he released that song with Wizkid back then. That's when that kind of music was en vogue. But he kept the song under the duvet and released in 2021 under pressure to prove a point.
It's his philosophy and we can't change that.
Jovi's power is the value he has created in his sound. A music purist.
Jovi took the industry by storm in 2012 when he churned out his monster hit "Don 4 kwat".
Jovi has unarguably been ingenious and adroit to embroider highly contextualized and relatable lyrics, painting a picture of our day-to-day lives in music. His unique style earned critical acclamation. The "H.I.V" album was phenomenal. Since then, Jovi has the highest number of songs released by a Cameroonian urban music artist.
Stanley Enow's ideology is different and depicts the conventional outlook of what fans consider show business and celebrity life should be; the one they see on TV. That flamboyance and showiness. That was what many fans were waiting for.
"Hein pere" was a hit song but the music videos took Cameroon to another level. "Hein pere" completely transformed the perception people had about Cameroon urban music. Stanley Enow came with top-notch quality and branding. His artworks, music production and video were potentially aimed at the international market. If Cameroon has some respect today, Stanley should be venerated for that.
In image and perception, Cameroon had great international attention.
Stanley Enow is sharp-witted and endowed with communicative skills that act a tool to get what he aims at. This attributes give him an edge over other Cameroonian artists Stanley knows how pitch ideas and network at any level of societal strata. His international moves have been fascinating. Stanley Enow simply did and is currently doing what Jovi is not doing.
His musical dexterity cannot be compared to Jovi but his business acumen undoubtedly places him ahead in the game. Stanley Enow brought the glitz and glamour show business was lacking in Cameroon.
He has been resilient, goal-oriented, dogged and determined in his career. This is what we should learn from him. Stanley has been relevant from 2013 when he released "Hein Pere" till 2022 with "Papariparo".
He is one of Cameroon's most decorated artists. He rose to fame in 2013 after "Hein Pere" and since then his consistency has been overwhelming ; not just because he is the most talented artist churning out hit songs but because of his brand positioning and music business savvy. He should be given accolades for taking Cameroon urban music to the international stage.
Stanley Enow and Jovi are unique in their ideologies.
Both have a role to play for the growth of the music ecosystem. They are incomparable since their ideologies are evidently different.
Someone said to succeed in the music industry, have the music skill of Jovi and the business skill of Stanley Enow. He explained that this doesn't mean Jovi doesn't do good business and equally doesn't mean Stanley Enow doesn't do good music.
#nexdimempire