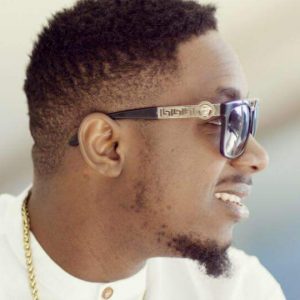 It all started on December 27th when "Coller la petite" hit-maker Franko took to Facebook to derogate the winners of MTV Africa Music Awards , presumably the greatest achievement for an artist in Africa. The rapper intimated that there is no financial reward accompanied with the trophy. In a seemingly taunting manner, he earlier on dedicated his "Disque D'or" to the MTV Africa Music Awards.  He made use of the Jovi-coined word "Mongshung" to describe the award. 
Jovi's new hit "Mongshung"is #1 Hip Hop tune on Trace Urban. 
December 28th,  Stanley Enow , the sole Cameroonian winner of the coveted MTV awards took to Facebook and posted Jovi's latest tune "Mongshung" commending the song as one of his favorite this year 2016.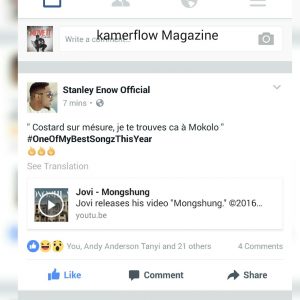 This post has astonished a myriad of fans and pundits who have known both rappers as foes. 
Jovi and Stanley Enow have had a rugged relationship in the past characterized by vocal jabs in songs and beefs most often dramatized by social media. Worth-noting, Stanley has always shown respect and utter appreciation for Jovi's music from day one .
Jovi on his part showed Stanley Enow unflinching support when he was nominated for MTV Africa Music Awards , rallying his fans to vote for him. A stir of happiness and show of approval has moved across social media for Stanley's move. To some, it's a show of unity , humility and maturity. 
About 30 minutes after historic post , "Ca sort comme ca sort" rapper Maahlox has come into the scene with a baleful and provocative comment referring to Stanley Enow as an "ass-licker" meaning he is just a brown-nose who is trying to flatter Jovi with an intention of gaining something. From the comments on the post, Maahlox seems  to be enraged. I don't know why.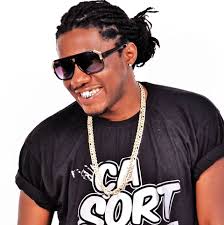 He informs Jovi in an idiomatic manner to tell Stanley to be careful because while trying to go down and lick, the crown might fall from his head. Interesting !
This has been the acme of trouble and heated controversy. It's quite doubtful why Maahlox will throw such a jab at Stanley Enow. Is he creating a vicious cycle.  Check it below;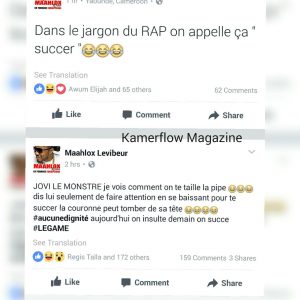 There's substantial amount of evidence of hatred and proof that Franko and Maahlox are teaming up to devalue Stanley Enow and his achievements.  
However,  in every hip hop game there must be "beefs" to instil interest and buzz. Remember Biggy and 2 Pac, Jay-Z & Nas,  Drake & Meek Mill .
Let's wait for the next move.
We are Nexdim !