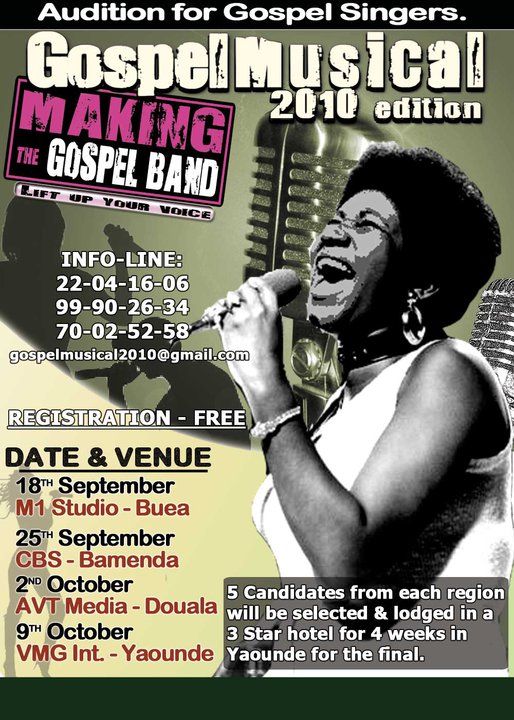 After auditioning a plethora of singers in Buea last week, the heat  continued as the Gospel Musical 2010 crew stormed Bamenda. About 105 singers were queued  at CBS Bamenda on Saturday, 25th for the vocal challenge. The europhic atmosphere which characterised the location gradually became tensed as the auditions started at 9:30 am. Most of the contestants were however categorical and hopeful they will make it to the final 5 to constitute the Gospel band. Some were quite impressive with their vocals and articulation while others created a comic atmosphere.
The 3rd Episode of "Making the Gospel band''  auditions  shall be in the economic headquarters , Douala on the 2nd of October at AVT Media.
"Making the Gospel Band " is powered by  DRIMP Foundation .
If you missed the first two auditions, now is your time to catch up with Douala.
Contacts: 99 90 26 34  OR  70 02 53 58
Email : gospelmusical2010@gmail.com or simply CONTACT NEXDIM.
BECOME A  FAN ON FACEBOOK:
http://www.facebook.com/pages/Gospel-Musical-Making-the-Gospel-Band/155700884458495?v=wall&ref=ts