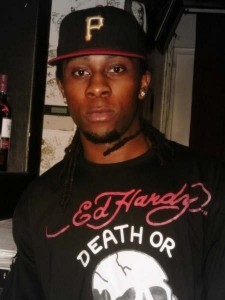 Lawrence Asutaku a.k.a LAW growing up as a young boy in Bonaberi Douala,Cameroon already had a love for hip hop, which he came to realize at age 6. His passion for hip hop only got stronger when he moved to the U.S.A at age 8, precisely to ATLANTA,GEORGIA , where he has resided since then.
He was inspired by the likes of Eminem, Lauryn Hill, Wyclef Jean, Pras, Jay Z, Kanye, Ludacris, Lil Wayne, Fabulous, Jeezy, Drake.
Standing at 6' 2", LAW also had a passion for basketball, which he focused more on  while in high school. As time went on, LAW realized his way with words only got better, especially after winning multiple freestyle battles against his peers, and also recognition for best poet, with his amazing punch line skills.
Encouragement from his winnings, and all the encouraging supportive fans he had gained, gave him the push he needed to pursue a career in the hip hop industry. As life will have it, the tragic loss of his brother, was a major setback in his pursuit for his spot in the hip hop game.
During the year of grieving, LAW turned to writing music as a way to deal with this saddened lost. When he decided to return to the hip hop game, the love and compliments he received from the fans, friends and family, only made it clear to LAW, that music is what he was born to do; so the year 2009 marked the re-birth of LAW, the lyricist.
LAW's decision to pursue his talent as an artist/lyricist full force, with no holding back, is clearly shown thru his music. The swagga of his sound could be best described as versatile but blunt, with his major strength, being the force behind all his punch lines.
His goal as an artist is to reach people thru his music, and be an inspiration to others, encouraging upcoming artist and lyricists to master their talent, and go after their dreams, no matter how long it takes, in his own words he says "IF YOU FEEL YOU GOT IT, AND YOU ARE READY, GO FOR IT. GIVING UP IS NOT AN OPTION". Stay tuned for his upcoming mix tapes.
LISTEN TO LAW'S SONGS HERE
http://www.myspace.com/lawlyrics