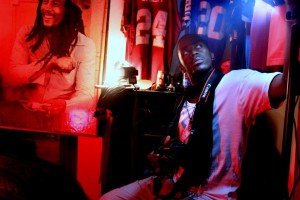 In recent months,Cameroonians have been entertained and above all intrigued by the great music videos directed by February 16th. The name has left many wondering who the guy is and whether he is Cameroonian. Sit back and relax as NexDim is about to unveil the genius behind the hottest name in Cameroonian music videos, February 16th.
Febraury 16th : The game changer
He is one of Kamer's finest music video directors. Ndukong Bertrand a.k.a Febraury 16th is an independent cinematographer/photographer who is currently one of the most sought after directors in the industry at the moment.
He has already done some amazing videos for BURN'M artist Sine –Number One,Malaria No More , MUMAK rapper Jovi's club banger Don 4 Kwat and Sine's recently released hit single video, Koh Koh.
The name February 16th springs from his birthday, a day that marks his creation and essence. Born Ndukong Bertrand some 25 years ago, Febs as he's fondly called by many is a graduate of the prestigious department of Journalism and Mass Communication, University of Buea. Upon graduation, Febs chose the path of entrepreneurship and thus invested a lot of his time acquiring skills as an independent cinematographer and film director.
This he did out of passion and the burning desire to ameliorate film and video production quality in an industry marred by too much mediocrity. He draws inspiration from great directors like  Quantin Tarantino, celebrity music video directors Hype Williams and Nigeria's Clarence Peters and he is poised to uplift Kamer's image in the eyes of the world.
With time , his efforts have caught  the public's attention and he is building an irresistible February 16th brand characterised by consistent sublime world class video/photo releases showcasing "pays" lifestyle.
Amidst all the infrastructural and financial challenges that plague our entertainment industry, February 16th firmly believes that with hardwork, dedication, and determination, we can bridge the huge gap between us and bigger countries like the US of A, France, Germany and South Africa. After all, if our fellow  Nigerians are doing it, why can't we? If you want your next video to be the bomb,you contact his management using the following address: Jules Nya,Publicist/Manager/A&R.Tel. 96 64 84 45.
Given the quality of the work he does, he should be called Fabulous Febs. Thumbs up for the good work.
AS a promise to our readers, Nexdim will do all to get an interview with this guru.
for now check out his most recent work in KOH KOH by SINE 
Enjoy !