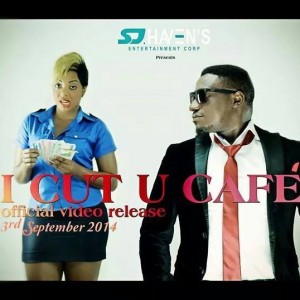 The much talked about video of  'I cut you cafe' by Afro-pop/highlife sensation Steve'slil is finally here. The video is mouth-watering featuring prominent faces in the Cameroonian entertainment industry. Directed by Didiblaise.
ABOUT " I CUT YOU CAFE'
Steve'slil is a prolific Cameroonian Afro-pop/ RnB artist officially signed to SJ Heven's Entertainment Corp. On the heels of the sweet-sounding R&B tune ''Ebangha''and "Diana", Steve'Slil proves his originality, proficiency and unmatched creativity as he unspools a 100% 'Camer-embellished' festive tune titled ''I cut you café''. The colloquial Cameroonian expression is used to show respect or commend someone for an attribute or achievement. It is a mimic of military salutation which is equally fused in the dance moves of the tune. 'I cut you café' is an up-tempo Afro-pop opus with a makossa bass line, drum and guitar pattern. This sultry R&B/pop delivery gets you in a shindig mood. Steveslil says he got inspiration listening to makossa and uses excerpts of Rumta's most famous hit ''Bambampe'' which he says immortalizes his childhood. The song was produced by Slimbeatz of Best Music Inc.
Enjoy.
LYRICS
Haaa ! Steveslil in the Building…
CHORUS
Baby I cut you café oh, the way you di wind that thing for me
I cut you café oh, the way you di panjo di panjo di go (2X)
DJ add yi galon , add yi gallon , add yi gallon (2x)
Plenty money troway eh
VERSE ONE
Finest baby with the cutest smile
Money way u feel say I no get di troway
The way you di wind that thing, baby di give to me
Go counter take a drink oh oh oway !
The way you di wind that thing, baby oti sexy
The way you di grind that thing baby oti sassy
Hey ngoreh o hu heuh , eningeh o kakieh heuh
You di catch me like fungeh
Kponkodo, kponkodo, kponkodo di go
CHORUS
Baby I cut you café oh, the way you di wind that thing for me
I cut you café oh, the way you di panjo di panjo di go (2X)
DJ add yi galon , add yi gallon , add yi gallon (2x)
Plenty money troway eh
VERSE II
They call me Steveslil in the building
Make you throw your hands up to the ceiling
Panjo Master's in the building, make you throw your hands to the ceiling
See how she dancing alingo, because she comot malingo
Wireless network like ringo, I no go bark for you bingo , oh oh weh
The way she di wind that thing baby oti sexy
The way she di grind that thing, my baby baby
Hey ngoreh o hu heuh, eningeh oka bwo jan
You di catch me like fungeh,
Kponkodo, kponkodo, kponkodo di go
CHORUS
Baby I cut you café oh, the way you di wind that thing for me
I cut you café oh, the way you di panjo di panjo di go (2X)
DJ add yi galon , add yi gallon , add yi gallon (2x)
Plenty money troway eh
VERSE III
God don bless me I'm getting high
Girls them love me coz am so fine
That boy way ee sing Ebangha
Now the girls them di go gaga
Ololololilo oway
Bambambambampe oway
Ololololilo oway
Bambambambampe oway
CHORUS
Baby I cut you café oh, the way you di wind that thing for me
I cut you café oh, the way you di panjo di panjo di go (2X)
DJ add yi galon , add yi gallon , add yi gallon (2x)
Plenty money troway eh
OUTRO
Ah…Steveslil in the building, yeah
I di feel you baby … yeah
Plenty money troway
Written and performed by Steveslil Njang