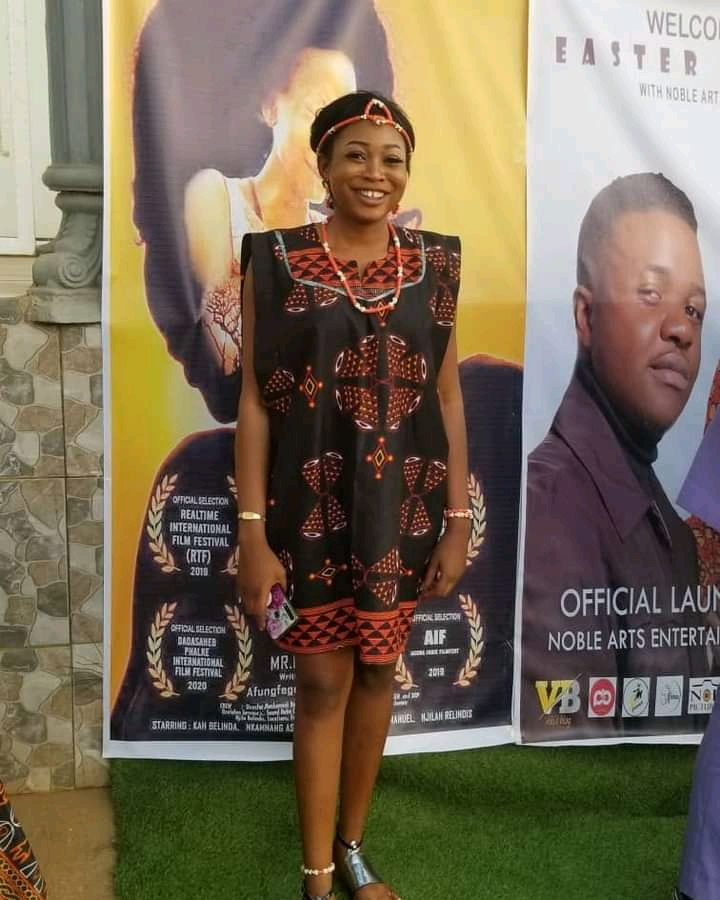 NexDim met an outstanding Cameroonian prosthetic and glamour artist Faith Feh for an exclusive Interview about her exploits, challenges and career prospects.
Enjoy !
NexDim: Hello Faith . We are allured by your exceptional value as a creative make-up artist. Please briefly introduce yourself.
Faith Feh: My name is Juga Faith Neng Feh from Bali Nyonga in the North west region of Cameroon. I am a makeup artist and a designer by profession.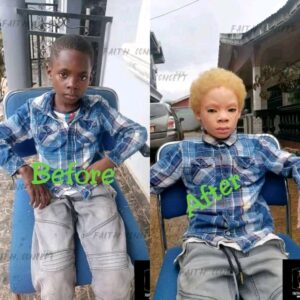 NexDim: What drew you to this profession? Were you always interested in makeup?
Faith Feh: Well, growing up in my school days I loved makeup but the glamor part of it. I wouldn't have thought I would be good in special effects too. As for what drew me to the special effects part of my makeup; it is the fact that am a big fan of the entertainment industry in Cameroon especially the movie industry. I got to notice that we do more of glamour movies than horror and epic movies. And the few epics and horrors don't really bring out the vision of the writers because of unrealistic makeup arts and lack of good special effects makeup artist in the country. So I took it upon myself to learn and be the best version of a special effects makeup artist in Cameroon and even Africa as whole, so together we take the Cameroonian films industry to higher heights.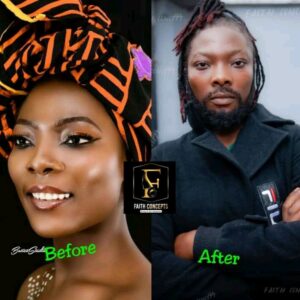 NexDim: What's the significance of the black to albino transformation makeup ?
well the whole idea behind that makeup and the arts of Faith Concepts is to show to the world and the movie industry in particular that you don't need to portray a particular physical feature or be a particular gender to play a role. You can always be transformed by makeup to fit in any role where necessary.
NexDim: Which projects have you worked on so far? And which was more memorable and fascinating?
Faith Feh: As for projects I've not been in many since my career started just last year, and I've not really been given an opportunity that much to express my skills to the best of my abilities . I have been just in some few sets here in Bamenda.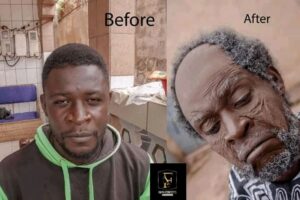 NexDim: We sometimes see you making people look bloody or injured . What other kinds special effects do you do as a makeup artist ?
Faith Feh: I do special effects makeup, prosthetic makeup, holloween makeup and glamour makeup.
NexDim: For the layperson, are there any differences between what would typically be classified as stage makeup, and makeup for every day?
Faith Feh: Stage makeup is supposed to be noticibale since it's intended to be part of the costumes on stage while everyday makeup is suppose to blend to someone's natural body features. Or rather stage makeup is a more complicated version of the everyday makeup.
NexDim: What are the difficulties you encounter as a make up artist?
Faith Feh: My greatest challenge so far has been to aquire special effects products needed for the art and to progress. So far, I've been able to come up with my own branded products but getting the raw materials to produce them is still a major set back for me, since those products are not sold in Cameroon.
NexDim: Who's your fave make-up artist? Who inspired you as a role model ?
Faith Feh: Well, my favorite makeup artist and one whom I consider as role model is a famous Nigerian makeup artist by name Hakeem Onilogbo CEO of Hakeem Effects.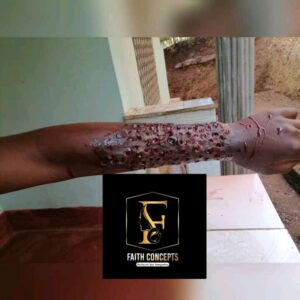 NexDim: What are your ambitions or future plans?
Faith Feh: My plans and ambitions are to get better in my arts, get more openings; Movie sets and platforms where I can showcase my arts so we grow the movie industry in Cameroon and Africa as a whole to higher heights
NexDim: What's your advice to up and coming make-up artists.
Faith Feh: My greatest advice to all up and coming makeup artists is to work hard and pray hard. Cus God is the mightyest. I am what i am today only by his grace. Also despite the hard times, be focused and push on because one day "bolo must pay"