With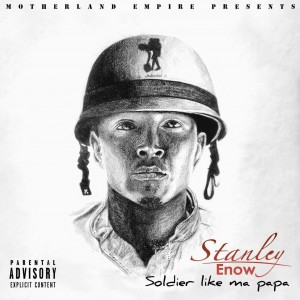 the much awaited debut album only a few hours away before its official public release,Stanley Enow proves he is ready to enter into a new phase of his music career and to put to bed all that has been previously said about him since his outburst into the Cameroon limelight in 2013.
"Soldier Like Ma Papa" as the album is titled is foremost an autobiographical piece, a special personal piece which salutes his father Papa Enow's career in the Cameroon police force and the opening track of the album "Commandant Zao" is befitting.
"Soldier Like Ma Papa" also awakens a message of hardwork, dedication, triumph, challenges and success – emotions/phases of life which practically every human being goes through / will go through at some stage. It is an album just as diverse in itself as Stanley Enow's own talent and capabilities. With ragga/reggae inspiration to RnB to rap, there is something in this album to suit many a musical taste…
In light of the eminent release a few hours away, we dedicate our post to five message points that we picked up from the album.
1. AFRICAN FAMILY LIFE:
Right from the onset, Stanley Enow's decision to kick off the album with "Hit The Road" featuring Bill Muicha reveals from the beginning the biggest responsibility shouldered by the children in the typical African home. We are all raised with the idea that our siblings, parents and even our extended family are our primary responsibility and once we are in a position to start providing, our duty of care to them also begins.
In "Hit The Road", we see a young man who is prepared to accept his responsibility even though he himself is not in a comfortable position. He wants to elevate his family status, offer a plot for his mother, good school for a brother, hospital care for his grandmother – he is prepared to give the good things to his family to ensure their lives are better – he is prepared to go the extra mile because his status as a firstborn demands it.
2. CELEBRATING SUCCESS:
In the "King Kong" track and from the video which was shot in South Africa, Stanley Enowdoes not hide the fact that he is happy to celebrate his own success…where he is at in life and what he has achieved so far in his very short music career which includes multiple awards and big brand endorsements. "I'm not lucky but I'm blessed…Stanley Enow trong pikin for trong town…when these boys dem see me oh boy dem bow down."
In "Have A Dream" featuring Bill Muicha we are also thrown into the world of an individual who goes from nothing to something, from despair to success and is also comfortable celebrating this change of fortune.
3. THE NECESSITY TO WORK HARD:
"Le pere noel n'existe pas reste la tu dors ne travaille pas…work hard mehn ne tente pas…sinon you go remain for back…" "You can make it if you try – be something." The message is all clear, hardwork according to Stanley Enow is a major key to one's success and there certainly is no Father Christmas who brings free gifts. If only we should try, we can try to be successful.
4. DEPARTED LOVE:
"We lived together, but I can't hold you now, just wanna hug you now"…a love song directed at a departed love, a love we yearn for but cannot reach out to or touch because they are either too far away or they have been snatched away by the hands of death…a part of life that resonates with every human being at some point.
5. BE PROUD OF YOUR ROOTS:
Of everything that can be said about Stanley Enow, one thing is certainly undisputed and that is Stanley Enow "Etangnti Moh Manyang" is very proud of his humble Mamfe and Bafoussam roots which he celebrates in his songs. The Bayangi boy from Manyu division in the South West Region makes no attempt to cover up his family life either "ma papa be na soldier, mami  be na presbyterian church elder…"
Soldier Like Ma Papa available 25th July 2015 to buy from www.kaymu.com
Twitter follow: www.twitter.com/stanleyenow
Instagram: www.instagram.com/stanleyenow
Facebook: https://www.facebook.com/StanleyEnowOfficial
Courtesy modemaisonpr.com
http://modemaisonpr.com/2015/07/25/mmpr-focus-5ive-message-evoked-in-stanley-enows-soldier-like-ma-papa-debut-album/