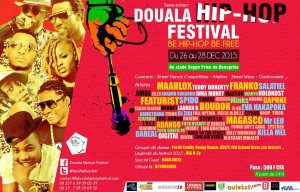 Green Grass present the 2015 Edition of the Douala Hip Hop Festival to take place on December 26, 27, and 28 at Stade Soppo Priso , Bonapriso. Reputed for being the biggest Hip Hop Festival in Cameroon, the DHF is  definitely going to be more explosive this year with a cream of frontline artists like Maahlox, Franko, Daphne, Magasco , Killamel and Les Featurist to set the stage ablaze. During this 3 days, the audience shall have a fun filled moment watching over 70 great artists perform and an exhibition of art.
A dance contest has been launched and the winner clinches 100, 000 Cfa and an opportunity to feature on a video done by NS Picture , official partner of #DHF. The finals shall take place on the 27th.
Contact:  Facebook: Douala hiphop festival.
Entry fee : 500 frs