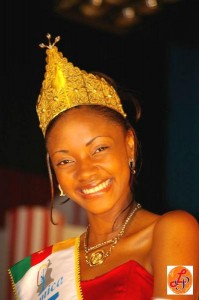 Marie Barbara Matagnigni
is the winner of
LUX
sponsored
Miss Cameroon 2010
. She is 19 old and a Law student in the University of Yaounde II, Soa. She is eloquent, intelligent, soft-spoken and humble. She is bilingual and would speak French and English with much ease.
Matgnigni was declared Miss Cameroon on the 10th of April in the presence of the first lady's mother , 
Mme Rosette Mboutchouang

.The event that took place at the Yaounde Conference Centre was a crowd puller with hundreds of lovers of beauty attending.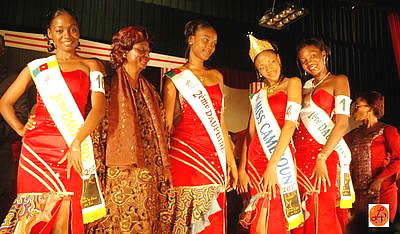 As part of her mission as Miss Cameroon, the 1.75 m-tall beauty queen hopes to ensure that garbage is properly disposed of, to avoid environmental mishaps. "I'll make sure lithering is discouraged as much as possible," she promised.
Matagnigni
who hails from the West region will be flown to Paris and back as part of the fallouts of her victory, after bagging One million FCFA.
Her first runner-up, 22-year-old
Fariya Oummoul
from the Far region went home with 500.000FCFA, while the second runner-up,
Esther Atcham
, 20, from the Centre was made 250.000 FCFA richer.
Joyce Mbassa' s
race ended as Miss Littoral 2010.
some captions courtesy of
tiptopstars.com