Catherine Lobe, now Cathy Guetta was born on the 27th of March 1963 in Dakar, Senegal of a Cameroonian father and a French mother. She is an entrepreneur and actress. She got married to the international celebrity David Guetta in 1992 and has two kids Tim Elvis and Angie.
In 2003, she opened a nightclub with her husband, Le Sweet Bar. At that time, they also owned a Moroccan restaurant in Paris, and were Tanjia art directors of  Les Bains Douches nightclub.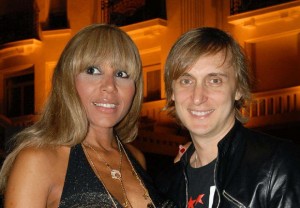 Cathy Guetta has also been associated with Muratti Atik for Pink Paradise (strip club) and La  Suite (restaurant).
Annually, since 1995, David and Cathy Guetta organize parties on the Ibiza island in Spain.
In 1999, she played the role of a prostitute in a film by Patrick Timsit, Quasimodo d'El Paris. The same year, she appeared in "Peut-etre" with Romain Duris and Jean-Paul Belmondo. In 2002 , the role of Fred in a movie by Fabien Onteniente titled 3  zeros.
She published Bain de Nuit in 2008, the story of her journey.
She owns Ibiza Cathy Guetta perfumes.