Cameroon's burgeoning music industry is witnessing the emergence of refined talents.
Orock Clarkson pseudonymed Dclo, is an adept Nigerian-born Cameroonian singer, songwriter and record producer whose name will definitely get engraved in the annals of Cameroon urban music.
Dclo nurtured an early inkling to pursue a music career spurred by freestyling sessions during night clubs shows.
His irresistible showmanship and exceptional charisma was a bait for his audience. His dream to make his presence felt in the music sphere.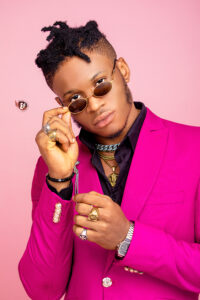 In 2019, Dclo met with Hook Money Gang and did his debut studio recording at a home studio.
"Mago" (My girl) featuring Aimzy Khally is a tuneful and soul-searching zouk-inspired rhythm in which the protagonist professes his unconditional love for his lover. This mellifluous tune is spiced with impeccable visuals for you to savour.
Watch the video via the link below and thank me later
????
Apart from being an adroit entertainer; he is well-lettered.
He attended the University of Yaounde 1 and later studied Computer Networking and graduated from CITEC Higher Institute of Technology and Management in 2010.
#nexdimempire