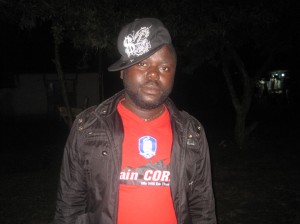 Afro hip pop crew led by Teghen Raymond, 26 year old rapper a.k.a. DARK SIDE, a name he adopts following how dark he looks, just came up with an inspirational struggle single entitled "TAKE IT BACK"
"Take it Back" is all about taking back or retrieving all the monies embezzled, the state properties like Tole Tea, Cam water and many others which have been privatized "not leaving out the presidency" said the dark sided man Raymond.
With much inspiration drawn from the hard life and hardship the masses of Cameroon have experienced and are still experiencing, version two of the track has been dedicated to the new presidential candidate Ayah Paul who stands as Dark Side's presidential hope for a change. So far, Dark Side is actively involved in the upcoming presidential elections owing to the fact that the chorus which goes thus-
"We gonna take it back ,
all what they have stolen,
we gonna take it back take it take it back one day",
now serves as the anthem of Ayah Paul's People's Action Party, PAP.
It is very interesting to know that Dark Side also runs a fashion designer shop alongside his partner Emma Fashion a.k.a. Shine Side  in comparison with his partner's darkness. The two are specialized in first class designer suits.
Listen to his audio from the link below
take it back
Infoline: (237)  79 96 91 81