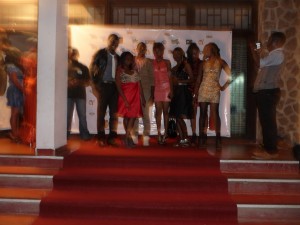 The Red Carpet Launching ceremony of the Cameroon Urban Music Association (CUMA) got all the much desired attention, glamour , pomp and pageantry. The ceremony was graced by the presence of political activist , Kah Walla , the Regional Delegate of Culture, Dr Fru and many other dignatories . 
A plethora of artists streamed to the event with much enthusiasm and expectation . Though the event was marred by power failure (AES SONEL) , the massive crowd that flocked there made the show worthy .
Cameroonian heavyweight producer, Emil Ngumbah of M1 studios was ushered into the Hall of Fame with an award while Kora Nominee Bright Phase thrilled the hungry audience with sizzling acapella .
Ideas sprouted in the direction of upgrading the music industry in Cameroon. CUMA president Oneke John (Galaxy) and Weg Efokoa played an essential role to make the event receive acclamation.