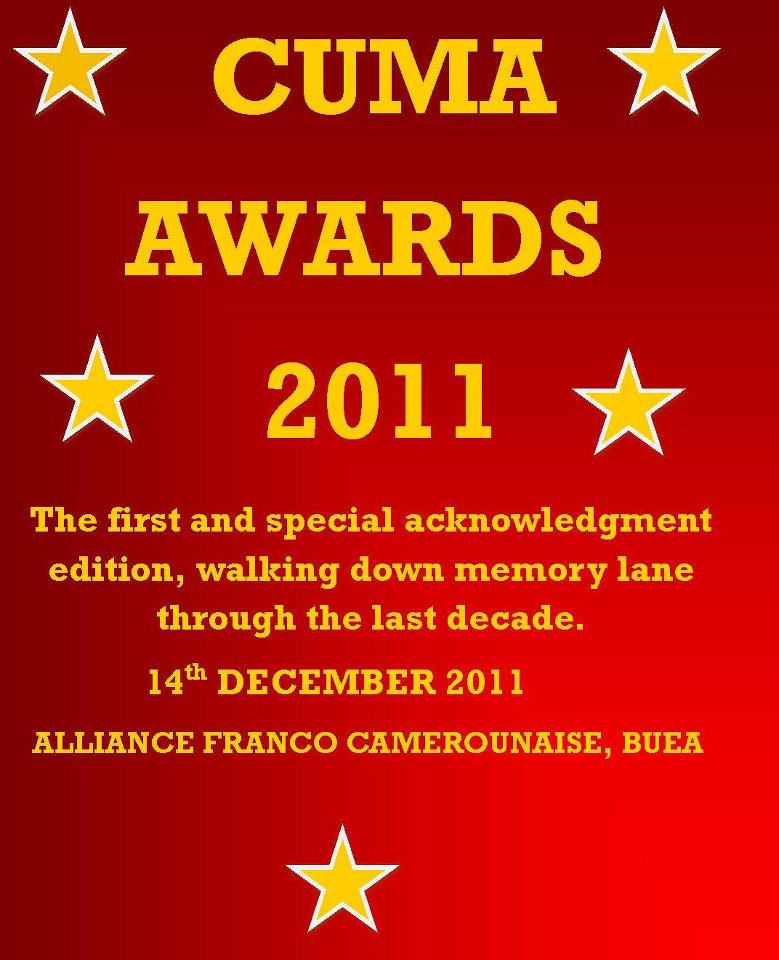 The Cameroon Urban Music Association (CUMA) is set to award artists who have incessantly contributed to bringing urban music in Cameroon to mainstream in the last decade. CUMA Awards 2011 is journeying memory lane to officially endorse the  work of artists in Urban music industry. The award shall take place on Wednesday 14th at Alliance Franco-Camerounaise, Buea from 4pm. Talking to the President of  CUMA , Mr Oneke John (Galaxy J One) , all is set to offer the glitz , pageantry and glamour the event deserves . The award ceremony shall be graced by performances from Dr Sley, Bright Phase, Steveslil, Trackzone,Damien Blue, Dr Kapt, Witty Minstrel, Sparx, West Don, Big G, Da Thrill and many more.
NB: The list of nominees was scrutinised by a jury and music pundits before rendered public.
Here is the list of nominees
1. BEST FEMALE ARTIST
a.Naomi Achu
b.Zinnia
c.Stella Moore
2.BEST MALE ARTIST
a.Dr Sley
b.Sidney
c.Wax
d.Master Suprem
e.Tony Nobody
f. Stypac Samo
3.BEST REVELATION
a.One Pablo
b.Rhythms
c.Big G
d.Damien Blu
e.Tchango
f. Zinnia
4.BEST ALBUM
a.Zionside -E make sense
b.Denzyl (E don blow)
c.Achalle – Feelings
d.BAAM -Stand up
e.Tony Nobody- Love,Peace,Respect
5. BEST VIDEO
a.Jovi-Don 4 Kwat
b.Sidney- Number One
c.Dr Sley -Busy Busy
d.Naomi Achu -Aladji
e.Tayong Tyn-Missing You
d.Dr Kapt-Disorder
6.BEST GROUP
a.BAAM
b.Bright Phase
c.Zionside
d.X Maleya
e.Y A Squad
f. No Name crew
7. BEST AFRICAN ARTIST
a. 2 Face Idibia
b. P Square
c.Bright Phase
d.X Maleya
e.Timaya
f.Dr Sley
8. BEST ORIGINALITY
a.Bright Phase – Africa Abong
b. Zionside -Clip a la tele
c.Achalle – Bunya Bunya
d.Dr Sley -Busy Busy
e.Adah- Nyango
f. Rough Kumbaboy – Benskin rap
9.BEST RNB
a.Steveslil
b.Sidney
c.Naomi Achu
d.Wax
e.Denzyl
f. Duc Z
10.Most Gifted Rapper
a.Dr Kapt
b.Sona The Voice
c.Witty Minstrel
d.MD
e. Sparx
f.Valsero
g.Kay
h.Rough Kumbaboy
11.BEST PERFORMANCE
a.Bright Phase
b.Dr Kapt
c.Dr Kapt
d.Steveslil
e.Tayong Tyn
f.X Maleya
12.MOST OUTSTANDING SONG PRODUCER
a.Master Chill (Angale by Damien Blue)
b.Emile Ngumbah (Clip a la tele by Zionside)
c. DJ ZEE (we still dey here by MD,DJ Zee)
d.Z-Leks – Je ne donne pas le lait
e. DJ Salatiel – Benskin rap by Rough Kumbaboy
13. MOST OUTSTANDING VIDEO PRODUCTION HOUSE
a.Adrenaline Studios
b.Binam Studios
c.Decobra House
d.Chillen Muzic
e.Blue Drops
14.ARTIST OF THE DECADE
a.Achalle
b.Dr Sley
c.X Maleya
d.Bantou Posi
e.Valsero
f.Sidney
15. BEST GROUP
a.Black LM
b.Back Space
c.XLD
To cast your votes send the number of the category and the alphabet of the nominee by SMS to 8080 .
For more updates visit CUMA Facebook page :
http://www.facebook.com/#!/pages/Cameroon-urban-music-association-CUMA/126332817461050
or CUMA Official website: