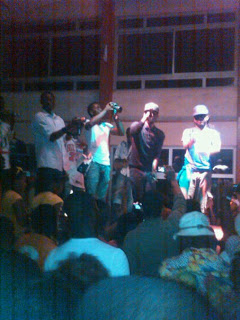 The highly anticipated
""Mega Jam"" concert which headlined the versatile and dexterous ""Don 4 kwat"" hitmaker JOVI happened on Wednesday 12th supported by an a panoply of stars like Denzyl, Steveslil, West Don,Magasco,Renise and ,Fluri Boys. Buea-resident DJ Dirtsman was phenomenal. Thanks to Red Eye Entertainment , CNPS hall was a j
am-packed venue of about 3000 fans most who could chant the lyrics of Jovi"s buzzy single ""Don 4 kwat"". The concert was characterised by fans uncontrolled excitement and hysteria , screaming girls ? Yea.
The Buea public started savouring a beguiling taste of Cameroonian urban music at its acme when opening acts Rhythms ,Mel B,Marpe,Arre,Maicon, and Askia took the stage. The renown host of the show Tito Valery made it more electrifying when he was introduced by Petit Sony. His entry was warmly welcomed as all hands went waving and voice crazily getting out of control.Red Eye Entertainment signed duo Fluri Boyz got girls screaming when they intoned their major hit ""Thursday nite"". Female fans could be seen with T-shirts inscribed ""Fluri Girlz"" .The "panjo master"" , Steveslil"s ""Ebangha"" was welcomed with great excitement as fans chanted to the lyrics of the song with precision.A show-stopping performance it was.West Don "s ""Ajebota"" was a sting .The crazy white fan who went on stage
while West Don performed added drama as he mimicked West Don"s tantalizing dance style.Magasco wowed the audience with his soul searching hit ""Lineloba"" spiced by two sexy dancers on stage clad pinkilicious ."I go buy you house like ayaba hotel" was the hook that all fans waited to harmonize. Renise spilled ""Holy wata"" on every fan.Her dance moves were hypnotizing .
It was about 1.30 A.M when Tito announced the entry of the man of the moment Jovi.His entry created uncontrolled hysteria .Security guys did n"t allow the crazy fans to touch his garment . Jovi performed about 7 songs off his new album HIV . The highly-awaited song ""Don 4 kwat"" came at the end of the show .
An indellible mark has just been imprinted in Cameroon urban music history by Red Eye Entertainment .