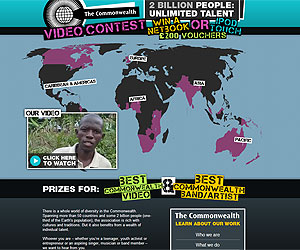 An online video contest to showcase the talents of young people and performers from around the Commonwealth is offering the winners a "potentially life-changing experience".
The Commonwealth Video Contest, which closes on 1 June 2010, is a YouTube-based competition launched to celebrate cultural diversity and individual talent across the 54-member Commonwealth. Prizes include a trip to Marlborough House, headquarters of the Commonwealth Secretariat, for International Youth Day on 12 August 2010.
The most original, inspiring or entertaining video will earn the Best Commonwealth Video title and a Netbook computer or iPod. The singer, musician, dancer or band responsible for the best musical video will be crowned Best Commonwealth Band/Artist and receive £200 worth of Amazon vouchers.
The contest's website – yourcommonwealth.org – is designed to provide a permanent audio-visual guide to life and issues around the Commonwealth.
caption courtesy http://www.thecommonwealth.org
"I hope say  wuna know say Cameroon na Commonwealth contry"
I