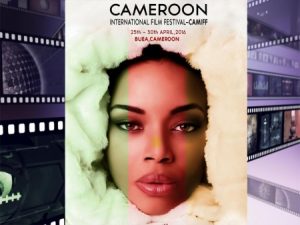 The 2016 edition of the Cameroon Film Festival will hold in Buea-South West Regional Capital from the 25th-th of April 2016 under the patronage of the Minister of Arts and Culture and supported by the US Embassy in Cameroon.
The Cameroon International Film Festival (CAMIFF) is put forward as an event that will showcase and present a complete immersion into the world of film making with participation from actors, directors, scriptwriters, cinematographers, sound engineers, editors, light engineers, students, equipment manufacturers and media.
The festival will feature a series of workshops and training opportunities to raise the standards of the local industry; networking events such as the film and equipment market wherein partnerships are encouraged through development of content trade channels; and a film programme that will screen various films over ?
Cameroon International Film Festival deliberately will commit to the ideals of empowerment, therefore will engage the local industry with a bid to deepen filmmaking culture in Cameroun and develop local talents through training and exposure.
Cameroon International Film Festival will provide an artistic platform through film culture that will engage people in and attract business interests essential  to create wealth in the local economy. Hopefully we will inspire young Cameroonians to engage in positive creative activity; provide entertainment  and tell our stories for the enjoyment and enriching of life.
Cameroon International Film Festival will in Five years strive to achieve the a landmark as the biggest Film festival in the world as well as write itself into the international film calendar as a great showcase that takes place every year in Cameroon.
Cameroon International Film Festival  (CAMIFF) aims to:
Help develop the local film industry to a level where Cameroon films will compete favorably  internationally.
Provide a growth opportunity for local Film Industry professionals to eventually export their products to the World.
Facilitate access to investors, equipment and technical skill acquisition through by engaging foreign experts to contribute and help us build capacity locally.
 Explore partnership with international festivals and counterparts to ensure quality, expertise and global standards access the local industry, accelerating its development..
Six days and six nights of cutting edge independent films, panels and parties. CAMIFF celebrates the art of filmmaking, helps support a community of artists and showcases Cameroon as an entertainment and travel destination. A film festival by filmmakers for filmmakers. 25th to 30th April 2016 in Buea, Cameroon @ the Mountain Hotel
(CAMIFF)