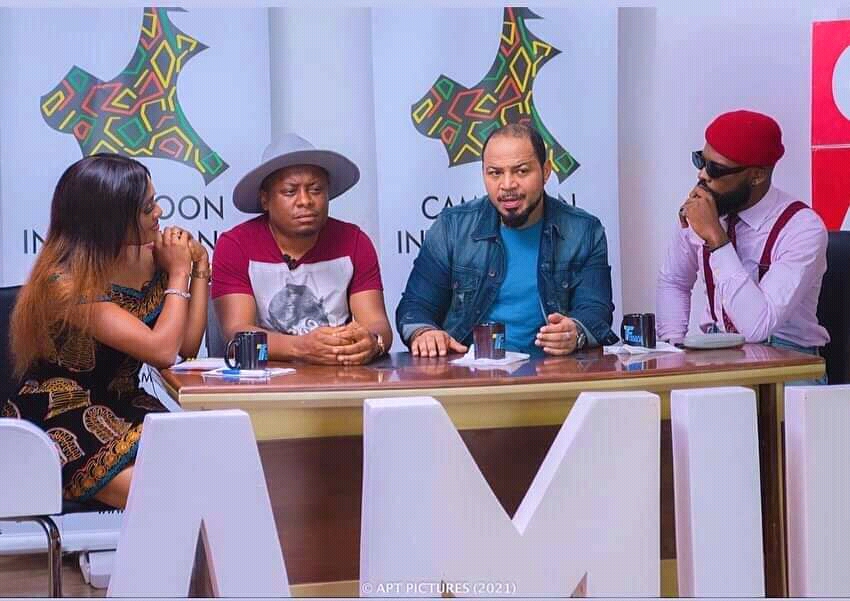 It's a wind-up for the Cameroon International Film Festival (CAMIFF) 2021.
Apart from the glitz and glamour , this year's edition curated insightful workshops to impart knowledge in acting, film directing , cinematography, Film business and script writing.
On this special edition of the much coveted  "Freaky Table " hosted by Joan Ngomba and Yana Jr, Founder of CAMIFF Agbor Gilbert Ebot and multi-award-winning actor Ramsey Nouah delivered a succint review of the festival ; the highs and the lows.
Agbor Gilbert stated that it was an amazing , beautiful yet troubling experience with no sponsors on board .
He explained how it was an ordeal task to convince government authorities to accept BUEA as the venue for CAMIFF. Authorities opined that if it isn't Yaoundé or Douala , they won't give their support and the Minister of Culture even avoided talking with him about the event.
Underwhelmed by this startling disapproval, he galvanised his team in BUEA to embark on the planning and execution.
He commended Ramsey Nouah's unswerving support as ambassador of CAMIFF.
In 2013, Gilbert met with Ramsey Nouah who encouraged him to initiate the festival.
Ramsey Nouah expressed how he's got a hindsight for the progress of the film industry in Cameroon.
He has been overly concerned about the festival not dying. He lauded the impact the festival has garnered over the years : educating and enlightening people .
The main host Joan Ngomba extolled this edition as largely successful void of scandals that mar the essence of the event.
Ramsey Nouah expressed that his utmost goal is to unanimously create a structure for creative minds to be protected.
On the strides CAMIFF has been making ,  the founder Agbor Gilbert said in 2016, their negotiations brought Africa Magic to Cameroon.
In 2017, they approached AMAZON Prime to acquire our movie content ,
And lately , they've been background negotiations with Netflix through Film One, Nigeria to acquire Cameroonian films.
The outcome has been two movies "Therapy " and "The Fisherman's Diary " on Netflix.
From what Agbor Gilbert said , "Therapy's  availability on Netflix was initially limited to Nigeria but due to further fruitful negotiations, it was extended to 19 African countries.
After gaining confidence , the Fisherman's Diary benefitted the worldwide availability .
About the Cameroon music industry, Ramsey Nouah described it as "A vibrant industry" saying he was amazed by the talent and their potential to sing in pidgin , french, English and Pidgin .
But wait on … In a bid to literarily express how the industry is gradually growing , he said " Na small small mblakos di grow " ?
A MUST-WATCH !
#nexdimempire