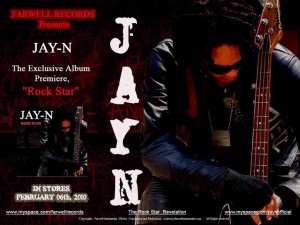 Jay N, whose real names are  Jean Noel Menyanga was born in Yaounde on the 14th of December 1985.Having a great passion for music,Jay N began writing R n B,SOUL,dancehall and reggae songs in 2003.
He is now gaining recognition and admiration for his style and charisma around Cameroon.He blends English and French in his lyrics  with well conceptualised videos.His new album "ROCKSTAR" is already blazing a trail.Hmmm!! girls can die for him.
Jay N was recently won the Mboa Hip Hop Awards as Revelation of the Year.
This video was directed and produced by NS Pictures.
Keep rocking!!!
ROCKSTAR by JAY N
Contact details:www.myspace.com/jaynofficial