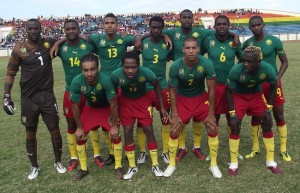 The Indomitable Lions yesterday beat  Mauritius by 3-1 at the Anjalay stadium, in Northern Mauritius in a match for the qualifying group stage of the 2012 African Cup of Nations. Cameroon largely dominated the match infront of about 6000 spectators.
Eto'o opened the score on the 37th minute of the game while Mauritius equalized on penalty at the 45th minute by Jonathan Brut. Eto'o added a second goal at the 47th minute and Moting scored the third goal from the penalty spot at the 64th minute of the game.
Senegal and Congo are the two other teams in this group. Cameroon comfortably takes the first spot in the group while waiting for the outcome of the match between Senegal and Congo on Sunday.