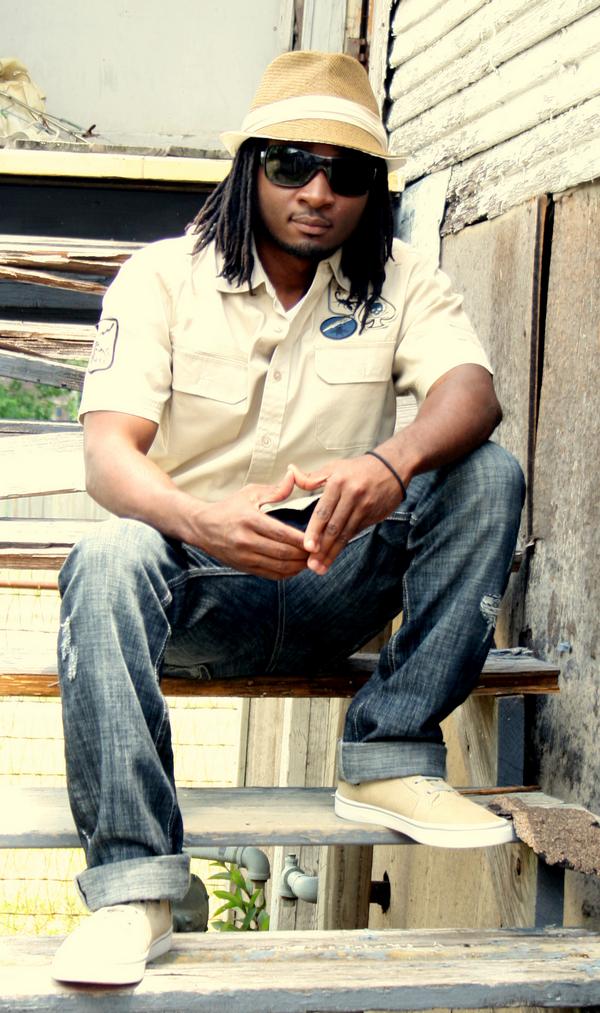 I just finished the interview with extremely talented Cameroonian Reggae artist Brown Pilot. The conversation took place via internet but the meet up was still human and really interactive. We talked in smileys and "LOLed" ( laughed out loud) even louder. Brown Pilot told about his music and even more.
Nexdim: Hey Brown Pilot ! What are you up to concerning your music career?
Brown Pilot: Still pushing to make my music heard world wide and come out at the right time so I can be recognized by the world.
Nexdim: Are you still recording?
BP: Yes I am currently recording, but with other artists. However, I am in the process of recording new songs of my own.
Nexdim: What should listeners expect from your new songs?
BP: I always record feel good music. In addition, I record music in accordance to our times and what is going on around us. I also record songs in the moods I am feeling. It will be music that appeals to whatever situation each of my fans is faced with.
Nexdim: Still Reggae and upbeat songs?
BP: Yes just like my previous music, I am a versatile artist so I record almost all genres of music but with a Reggae feel and style.
Nexdim: Why do you mostly do Reggae?
BP: Reggae music is more appealing, I love the vibes, feeling, and if it is
strictly culture, it is inspiring. Bob Marley and the rest of the great
reggae/dan cehall artists have all inspired me with their message and style.
Nexdim: I personally love the song "Warning" featuring kidd kuttah. Could you describe the song? What inspired you to write that specific song?
BP: Warning is a song that was written and recorded by myself featuring Houston's own best underground rap Artist Kidd Kutta. In Hip hop mostly, there have been facts and reports of how people tend to follow the lyrics of most rap songs (Ganster Rap). Some people do follow instructions given by music on how to kill others or beef with others and all the negative stuff. Music is supposed to unite, make happy, and heal. So, that is why I wrote the song, and in my lyrics it says "music is my weapon." And I am glad you love the song, because a lot of people go for the dance tunes. So big ups to you!! Lol!
Nexdim: Thank you! I do love your music and I will keep downloading and listening.
BP: Please keep downloading and listening and also tell others, because the world has to know. I represent Cameroon forever.
Nexdim: You have been busy performing in many shows in Houston/USA . What is your secret for a great enjoyable show? How would you describe your performances?
BP: Yes I have done countless shows in Houston since 2004. Well you play according to the crowd, just like a Dj playing either in a club or an event. I don't stick to the normal routine of playing track one then two. I get the energy and support from the crowd, then I perform songs that will keep them moving. It is my secret which I bet is out now..lol. I bring energy to my performances and because of that the crowd has no choice but to ask questions and follow ups about me.
Nexdim: Do you play any musical instrument?
BP: No, sad right? I play the music in my head lol! But I do play Congas.
Nexdim: When was your last trip to cameroon? Are you planning on going back anytime soon?
BP: Last time was in 2003 (sad face). I always plan on going soon, but things change and I have to stay longer. But next year I should be there if all go well.
Nexdim: Have you been listening to the hot urban artists in Cameroon ? Which one do you like?
BP: To tell you the truth i haven't been. But hey! my lil bro is in the business too and he is coming up strong. His name is Dj sampla and he does Reggae. Friends think he sounds just like me and I am very proud of him. So look out for him, but big ups to all those who are doing it regardless of whether Cameroon accepts the kind of music or not..They all have my support!
Nexdim: Congratulations on your Master's by the way.
BP: No Bachelor's! I wish I had a Master's lol!
Nexdim: I am sorry my mistake. Still Congratulations on your bachelor's.
BP: Thank you! I wish you were giving degrees. I would have had my master's already. Lol!  
Nexdim: That is Funny! Let's talk about your faves.
Nexdim: What is your favorite color?
BP: Brown. Lol!
Nexdim: What is your favorite pet?
BP: I dont really know if I have a favorite pet but I think I can keep a dog.
Nexdim: What is your favorite sport?
BP: Soccer or football…however you want to call it. Lol!
Nexdim: What is your favorite Cameroonian dish?
BP: Kuakuku! lol…Good job! I can't stop thinking about food now. Lol!
Nexdim: What is your favorite movie?
BP: Rush Hour.
Nexdim: Last but not least, what should I wish you?
BP: what should you wish me? Let me see, wish that i become the greatest Reggae artist to emerge from Cameroon Africa since the legendary Lucky Dube passed away. R.I.P
Nexdim: Well! I wish you to become the greatest Reggea singer from Cameroon and Africa.
BP: Thank you all!
Make sure to check out Brown Pilot's myspace page at myspace.com/brownpilot for free streaming music and legal downloading. Visit the website as well at Brownpilot.com.