Often presented as a  mysterious character , ZE MARIEN CLAUDE a.k.a BOBBY SHAHMAHN developed passion for drawing and rap as a teenager.
His penchant for rap  developed within several labels: DARKCELL RECORDS created and managed by his brother and longtime friend DJ STR'SS. He left the label and  a year after joined the stable of DJ Bilik 's ZOMLOA RECORDS thus forming LA ZOMLOA FAMILIA. It was under this charismatic label that  the public discovered  ZE Marien Claude aka BOBBY SHAHMAHN. In  pursuit of knowledge and aware of his lack of qualifications, he indulged into professional training. His courses and professional training and primarily a lot of personal research gradually gave Shahmahn a basic knowledge. He got integrated with EBENE CAMEROUN, which is a structure of architecture and interior design where he  worked as an intern and from 2001 to 2002 at PRO VIDEO. He excelled in virtual animation techniques, special effects and editing digital video.He worked with  MINN SOCIETY where he was in charge of  the digital studio.
He left that post a year later to join the team of Macacos. After 3 years of loyal and good service, he worked for CREATION PLUS, a structure engaged in printing and production of commercials. His experience and talent started  attracting the attention of several companies  and finally in June 2006 he rejoined the team MW MARKETING agency with clients such as MTN GROUP CAMEROON, CBC, BRASSERIES DU CAMEROUN, Chococam, BICEC and many other large corporations. He serves as creative director.

He left the company  in July 2008 to devote himself entirely to the management structure "RED ZONE MULTIMEDIA»
During this illustrious career,  Bobby Shahmahn did not forget his first  love:  RAP. He  has decided to make his contribution to the construction of this structure and during all these years. At his side we find people like OSHIMIHN SULTAN, CHARLIE Ngango, DJ PANEBO (a few years later) and many others. As early as 2004 SHAHMAHN decided to make every effort to show the world the talent of a friend and brother whom he renames   SULTAN OSHIMIHN, and starts a project with him in a small home studio in New Bell,  Douala.
In December 2004, after a good performance by  SULTAN OSHIMIHN on a show , DIS L'HEURE 2 RAGGA in Douala, SHAMAHN, Ngango  and SULTAN OSHIMIHN jointly decided to create a structure that will allow them to be masters of their course . The outcome was  RED ZONE.
RED ZONE  is a brand of revolutionaries , creativity, and success. Far from being a single label, RED ZONE is simply a business engaged in the areas of: web, advertising, publishing, newspapers, visual identities, events, radio spots and video and of course music production.
RED ZONE has to its credit: MAMBO advertising campaign, TV SPOT for COCA COLA (as a provider for MC CANN), IOM TV SPOT (as a provider for MW) TV SPOT for MTN and AUDIO (as a provider for MW).

AWARDS:
•  PRIZE FOR BEST VIDEO CLIP ,CANAL D'OR with "BLOW" by Sultan
• PRIZE FOR THE BEST VIDEO CLIP , MBOA HIP HOP AWARDS 2008
• PRIZE FOR THE BEST MUSIC PROGRAMMING , MBOA HIP HOP AWARDS
• AWARD FOR BEST ALBUM 2008 , MBOA  HIP HOP AWARDS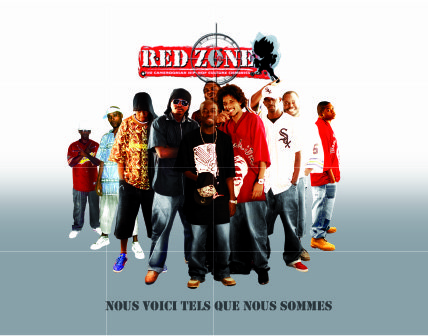 BOBBY SHAHMAHN is today an undisputed guru in the Hip Hop industry .
General manager
Telephone: 96 77 74 25
Email : shamahn@redzonimal.com