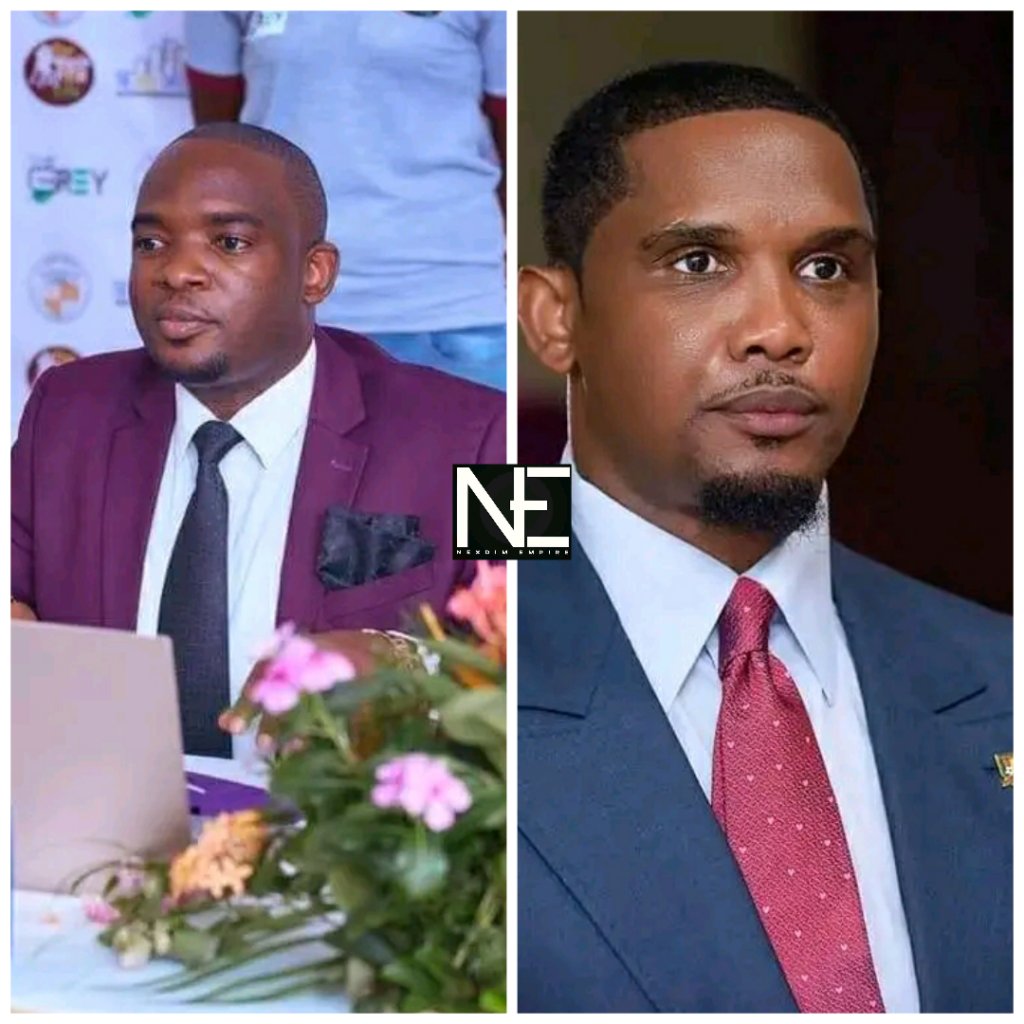 Vice president number 4 of FECAFOOT and President of Ngalla Quan Academy Henry Njalla Quan II has hurled criticism on FECAFOOT for abetting match fixing and accused Samuel Eto'o for using corrupt refereeing to fight his enemies. This comes after his team lost 1-0 against Kumba FC. During the encounter Ngalla Quan was punished with 5 red cards, 6 yellow cards and 3 penalties.
Henry Njalla Quan II stated that he has made several official complaints to Samuel Eto'o about the malpractices and problems plaguing the Federation but he has been giving deaf ears. He has rather been treated as a disloyal person and enemy of the system. This explains why his team had to suffer such injustice, according to Henry. He also said has complained to Samuel Eto'o about death threats and no reaction ensues.
" …I have always respected the president of FECAFOOT and have defended him tirelessly as can be seen but it's very much clear now who the traitor is. How can a "senior brother", someone whom myself and many other young Cameroonians "idolized" while growing up treat a junior brother this way? What can justify this level of lack of empathy and inhumane treatment? I know I will be insulted by "blind" and star struck persons but don't worry, you will soon overcome the charm and see reality"
"
"As you would have noticed, I have been very vocal and not shy of expressing myself on social media since getting into football administration. While many people have not been comfortable with my outings, these outings reflect my pure emotions and give an indication of the realities surrounding football in Cameroon, which without any doubt is in its darkest phase ever in stark contrast to the hopes and aspirations the elections of 11th December 2022 brought. As you all know, I was one of the leading and most vocal actors in this much needed quest for change.
To my greatest dismay, football which is supposed to unite us is rather causing one of the biggest divisions in our beloved Cameroon which is dealing with socio-political conflicts on multiple fronts. As earlier disclosed, I have been a principal victim of threat of life, discrimination, absolute disregard, inhumane treatment and many more from employees, executives and other stakeholders despite being one of the Vice Presidents of the Cameroon Football Federation.
I have on numerous occasions brought up these issues to the President of the Cameroon Football Federation who to my greatest shock and dismay has done absolutely nothing to address these issues. I have been particularly attacked by the English Speaking community whom I represent at the highest level of Football management in Cameroon. As a sign of loyalty and respect to the institution I have been representing for the past one and a half years, I have always defended the interests of the federation in public on such issues, while I have been drawing the attention of the President of the Executive Committee of FECAFOOT behind the scenes, on the plights of the people whom I represent as well as other key issues affecting our football. This seems to have however persistently fallen on deaf ears.
I respect the President of FECAFOOT immensely for multiple reasons and this was evident in my undiluted and unconditional support for him during the 2021 elections.
However, the worrying silence and accompanying reactions of the president concerning these very pertinent issues, particularly my safety has been very difficult for me to digest. As the youngest ever Vice President of FECAFOOT, I ought to be receiving some protection from my peers, but it is very evident that I'm instead been thrown into a well-built pit.
As they say, administration is written. On the 20th June 2023, I therefore decided to inform the President of FECAFOOT formally and in writing of my personal observations on football in Cameroon since we took over on the 11th of December 2023. I knew this letter may be wrongly interpreted by him, but I still decided to free my conscience in fulfilment of the promises we made to Cameroonians when taking over office.
As a sign of respect and loyalty, with the hope that this letter will be looked into keenly and confidentially by the president, with investigations opened to verify the authenticity of the information provided, I was heartbroken to instead realise that inexistent contents of a very Confidential letter which I sent to the him was being distorted and talked about by his very close collaborators as well as his close allies who of course don't know how to keep their mouths shut. As per shocking reports, as well as text and audio messages I received, these allies and collaborators falsely accused me of:
-Betraying the presidents trust and being disloyal.
-Fighting the president by holding secret meetings with his enemies. These assertions were made after I paid homage to Captain Feutcheu Joseph whom I've known for over 10 years and has been one of my football mentors. Was I supposed to discard a father simply because he resigned from a corrupt and inhumane FECAFOOT board? How can I be accused of holding secret meetings with "enemies" when I do not make secret my closeness to them? The president of FECAFOOT has forged good relationships with some individuals and club presidents who were vehemently opposed to us during the past elections, even traveling as far as Dubai to attend their weddings while calling others for secret meetings to plot against me, even tipping them huge sums of money in the process. Why is he allowed to make friends with "enemies" while we are prevented from doing so? This is actually the most stupid thing that has been said over the past 18 months in FECAFOOT.
-Disrespecting the president despite allegedly receiving 80 million francs after the FIFA World Cup Qatar 2022. This particular point is the most dishonest thing I've heard in my entire life! Its sole purpose is to direct envy and hate towards me. As a matter of fact, despite designated Head of Delegation alongside the 3rd Vice President, I did not receive a Single Franc from FECAFOOT before, during and after the World Cup. I challenge the FECAFOOT authorities to bring proof of transferring this amount of money to my account! As a matter of fact, I never even saw the four corners of the VIP section at any of the 3 venues where we played our games while some workers and close friends to the president were given VIP tickets and enormous mission allowances.
-ETC
Hearing these prefabricated lies has been one of the most painful things I've had to deal with in my entire life.
My understanding of this was that, this was a purely divide and rule tactic deployed by someone whom I professionally confided in out of love, respect, loyalty and for the sake of our football.
Surprisingly, the same people who were aware of this letter seem not to have copies of this letter. It's very obvious that they were lied to and deliberately incited to make life difficult for me and carry false rumours.
As a demonstration of force and in retaliation to this letter which many were induced into believing was a "very bad" letter showing disrespect towards the president, on the 28th of June 2023, we witnessed the most scandalous refereeing in the history of Cameroon football and possibly in World Football, as the team which I own; Njalla Quan Sports Academy of Limbe was made to suffer for my supposed disloyalty towards the "great and almighty" president of FECAFOOT. During our first leg South West Regional League playoffs semi-finals clash against Kumba City FC, my innocent team made up of very promising players, with an average age of just 19 years old received 5 red cards, 6 yellow cards and 3 penalties against us. As God will have it, we ended up losing just 1 0 despite this daylight robbery orchestrated by heartless criminals running our football and close allies of the President of FECAFOOT. As seen on social media before the game, alerts of plans to frustrate my team because of my apparent disloyalty towards the president were made public. In anticipation of what was to come, I invited my colleague of the executive committee who is head of refereeing in Cameroon to come and observe the scandal which was is brewing.
Shockingly, this gentleman sent me a WhatsApp message 5 minutes before the game, telling me that his vehicle was broken into overnight and he won't be able to attend the match! Wow!!! Is he a helpless accomplice or an honest victim? Food for thought! How can we stoop so low, ruining the lives of young footballers we are supposed to nurture, develop and protect simply because of our "political differences and imaginations"? I brought up these scandalous issues to the FECAFOOT executive committee forum and as expected, it has been completely ignored. No single Executive Committee member has even bothered to reach out to me privately to find out what's going on including the president whom unless he proves otherwise, is the brain box behind all the problems I'm facing at FECAFOOT. Is this how heartless we have become? Are we serving people or serving football? Is this really football? A critical look at my situation will give you all the answers you need as far as the persistent poor results our national teams and clubs have been accumulating recently at the international stage.
In consideration of this, I have therefore decided to transform the Confidential letter I sent to the President which has been grossly distorted and used to discredit me into a public letter hoping Mr President will act on it. It pains me a lot to do this but I am sadly left with no other option seeing as all attempts to draw the Presidents attention to the multiple scandals rocking our football have failed and have instead been transformed into a personal crusade against my physical and moral integrity. Just to make things very clear, I am not part of those who will chicken out and resign. That's very easy! In doing so, I would have killed the dreams of thousands of Cameroonian footballers who were very hopeful and had big dreams since our election into office. Unlike others who have given up and quit, I intend to stay on and complete this particular mandate in fulfilment of my promise to the Cameroonian football family, particularly the stakeholders in the South West Region who gave me their votes in majority. I however know that as has been the case recently, I will be suspended or possibly dismissed or possibly even killed considering the numerous death threats I've received which have fallen on deaf ears and seem to have been evidently orchestrated from above. Surprisingly, most of the death threats I have received started after I asked the Director of Marketing and communication for details of contracts binding FECAFOOT with its sponsors. This request was made not only in my capacity as Vice President but also in my capacity as the Head of the Marketing and Media Promotions Commission of FECAFOOT. In response and with the president in copy, the Director of Marketing blatantly told me that he won't disclose these details to me as it's not within my competence. Again, the president was silent and seemingly in approval of his trusted collaborator. I am ready for what I know will follow after these revelations if that is the prize I have to pay in order for the dignity of Cameroonian football to be restored.
The calibre of people running our football is the deepest problem we have. Individuals of very doubtful moral values are in charge of the destiny of thousands of young lads struggling to make a living and are further threatening the peace and stability of a country that spends Billions of FCFA of taxpayer's money each year just to promote football. In the South West Region, which is my region of origin, and has unfortunately gone down in history as the worst place on earth for young footballers, we have as leaders people whose names you will find on the list of most dangerous fraudsters in Cameroon. People who give open death threats and make public declarations of being mafia lords and insisting that FECAFOOT is a mafia organisation and there's nothing anyone can do about it. This was very evident on the 28th June 2023, a day which will go down as the darkest in the history of our football!
I have always respected the president of FECAFOOT and have defended him tirelessly as can be seen but it's very much clear now who the traitor is. How can a "senior brother", someone whom myself and many other young Cameroonians "idolized" while growing up treat a junior brother this way? What can justify this level of lack of empathy and inhumane treatment? I know I will be insulted by "blind" and star struck persons but don't worry, you will soon overcome the charm and see reality!
In conclusion, I call on FIFA, CAF and most importantly to the Cameroonian government to look into our football before it is too late and can no longer be salvaged.
In the event of anything happening to me, complete evidence of all the points I raised in the now open letter to the president as well as this explanatory message, particularly the role played by different persons within the Cameroon Football Ecosystem shall be released by persons whom I have handed this information to and instructed to act upon in case my safety becomes severely compromised. This will enable appropriate judicial action to be taken by the competent authorities. I therefore call upon the president of FECAFOOT to take the appropriate action needed to make Cameroon Football Great Again as promised!
On another note, I encourage all young Cameroonians not to give into fear and succumb to satanic and corrupt practices simply because we want to enjoy immediate success and benefits. Always remember that no matter how dark the night is, the sun shall eventually rise. Darkness shall never overcome light.
God bless you! "