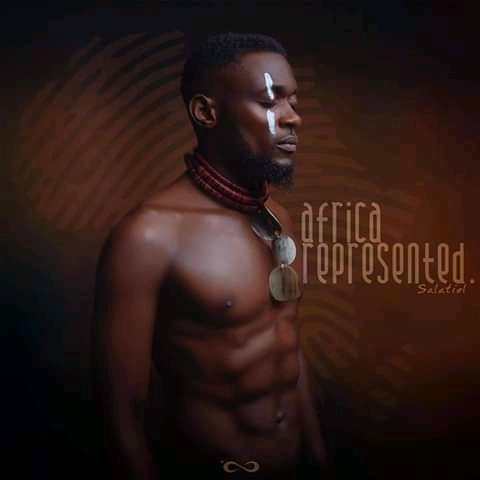 "Africa Represented" is highly syncretic in nature,  encompassing a variety of styles ranging from reggae, Dancehall, Afro-beat , pop, Contemporary Folk music and Makossa. The opus truly represents Africa musically and definitely a valuable asset to represent Cameroon internationally.
Salatiel adeptly throve in intermingling diverse African cultural rhythms to explore love , pain,  solitude, pessimism, motivation, Africanism and lifestyle.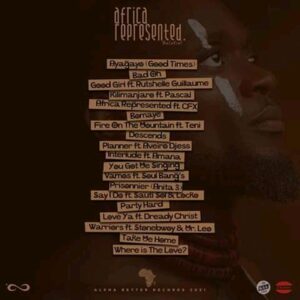 The 20-track-album is an embodiment of vocal adroitness, lyrical ingenuity and exceptional energy. It features artists from Haiti, Nigeria, Uganda, Ghana and Guinea .
The album starts by waking you up with a good vibe.
"Ayagayo"  glides through pop music, conveying a message of hope and triumph. The song submerges me into a jubilant mood.
"Bad oh"  is overly sensual – " I see you put on that freaky smile …sexy tighs…pull your body closer mine ". The song plunges you in a feeling of romance, with an imaginary scenario of love music from the late 60's . The infusion of Spanish guitar intonations gives it a more passionate vibe.
"Good Girl" featuring Haitian super diva Rutshelle is a love-coated zouk tune which carries a Caribbean appeal. Rutshelle graces the song with a stellar vocal  performance. The chemistry between Salatiel and Rutshelle is just so adorable. The video is already making phenomenal strides across Haiti, Guadalupe and other Caribbean countries. It has garnered above 1 million views in one month.
Salatiel uses "Kilimanjaro" to epitomise success . It's a song of resilience and faith to keep flying high to achieve your full potential in life. Pascal proved his a lyrical gemstone. He details how you need to start with a vision to fulfil a mission. It's a motivational opus to keep you working hard.
Track 5 is "Africa Represented" featuring CFX; A thumping reggae melody.
It carries the title of the album due to its pure representation of Africanism; the pride of our colour , race and inherent cultural diversity. It also talks about the cross-border mobility of African music that hits across the world with good vibes. CFX has an  amazing rap verse touching themes like neocolonialism and Africanism.
"Bomaye" has a dancehall feel and  takes you into a festive mood. Salatiel uses a derivative phrase "Murder She Goes " by Chaka Demus and Pliers and blends French, pidgin and English.
"Fire On the Mountain" features Nigerian singer Teni . It's a tuneful love song full of deep lyrics. Salatiel says he's a snipper , always taking shots at girls .
Their vocal and lyrical deliveries synch perfectly. This song is definitely going to infiltrate into the Nigerian music market. I would've loved Teni to add some Yoruba into her lyrics .
"Descend" cuts across a message of African pride ; "Africa is my paradise" , the pride our melanin and very danceable.
"Planner" featuring Aveiro Djess and DJ Arthur brings you back to Central Africa is a sizzling African dance vibe. The song is introduced with traditional percussions typical of the Western and North West regions . It's a festive song to jive to. If Salatiel is thinking of targeting the Central African market with a video,  this probably the right hit.
OMG ! Then comes an interlude that takes you on a musical journey to Hausa land. This album is uniquely diverse and this musical piece featuring Amana will appeal to the massive Hausa community across Sub Saharan Africa.
Afro-soul with a stint of Makossa are identifiable on "You got me singing ". If you're a sucker for Lukua Kanza's music , this is definitely the genre of music . Salatiel displays great songwriting skills on this one.
"Vamos " features Guinean musician Soul Bangs. It's kind of  polyrhythmic in nature.
"Prisonnier" is a sequel of Salatiel's monsta hit "Anita" . If had the powers to entitle it, it'll be "Anita 3" .  Salatiel explains how he's incarcerated in love, trying to be liberated to no avail.
"Say I do" featuring Ugandan stars Sauti Sol and Locko  is a breathtaking wedding song. – "Fate will have it its way, So I ask you today , Will you marry me". The song is a love ,  trust and respect of marital vows, the backbone of a successful marriage. You will derive eargasm listening to the vocal polyphony of the talented singers.
" Party hard" is a reggae-dancehall fusion. It keeps you in a party mood.
"Love ya" featuring Dready Christ is another reggae vibe with an international appeal. Dready Christ is so underrated. He's got that potential to excel in the global music market.
"Warriors" featuring StoneBwoy and Mr Leo is a motivational song and liberation from neocolonialism – " How we survive in the jungle …like warriors". We need to fight indefatigably for conquest. An African hero  Chaka Zulu is referenced. Mr Leo's verse is full of energy and infused Lamso. Mr Leo opines we need to stand up as lions and take over the jungle.
"Take me home" literally got me to tears. It talks about the killings , undue displacement and immigration due to the crisis in the restive regions of Cameroon. He explains how people are forcefully displaced, suffering and yearning to go back home where they lived peacefully.
The second verse depicts the struggle for survival by migrating to Europe as fugitives, passing through the deserts for greener pastures and freedom.
"Where is the love" is a melodious pop song  with some violin instrumentation.  It talks about the need to love humanity. He decries the killings , terror , rape , proliferation of viruses and broken homes. He also laments on the fact that no international bodies stay indifferent amidst the turbulence . "What will tomorrow bring ? " shows despair and need for hope.
The album ends with "Water " remix . "Water" is a slightly varied version of the original song. It's creative and contains derivative lyrics of the original. It's a good club banger.
https://audiomack.com/salatiel/album/africa-represented
By NexDim
#nexdimempire