European football's governing body UEFA,  announced last night they had denied Achille Webo 's Mallorca entry to the upcoming season's competition after deeming that they had fallen foul of financial regulations.
Mallorca are set to appeal the decision but Villarreal tonight announced they had been informed they would be taking the cash-stricken club's place.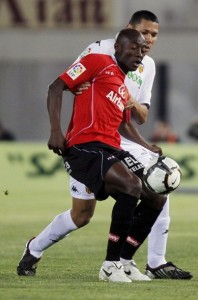 UEFA's statement, on the Villarreal website, read: "In relation to the decision taken by the Committee of control and discipline on July 22, we want to announce that RCD Mallorca have not been admitted into the UEFA Europa League 2010-2011.
"In consequence, as established by paragraph 2.12b of the competition rules, we want to inform via this note that Villarreal (having reached seventh place in the Spanish league), subject to the fulfilment of all the relevant conditions, will be admitted to the UEFA Europa League 2010-2011 in place of RCD Mallorca."
The relevant ruling states that any club not admitted will be replaced by another of the same federation and that if the sanctioned club are not the cup winners, the team that replaces them must be the one that was best positioned in the league standings.
Mallorca in May applied to go into voluntary administration after amassing debts thought to be in the region of 70million euros.
A statement on UEFA's website read: "On the basis of all expert reviews which have been undertaken, the control and disciplinary body ruled that the club does not fulfil the necessary admission criteria."
Mallorca have reacted angrily and are preparing to challenge the ruling.
A club statement today read: "This decision is seriously harmful to the club's administration process as there were a series of revenues expected that would have allowed payments to creditors."
New coach Michael Laudrup is hopeful the ban will be overturned.