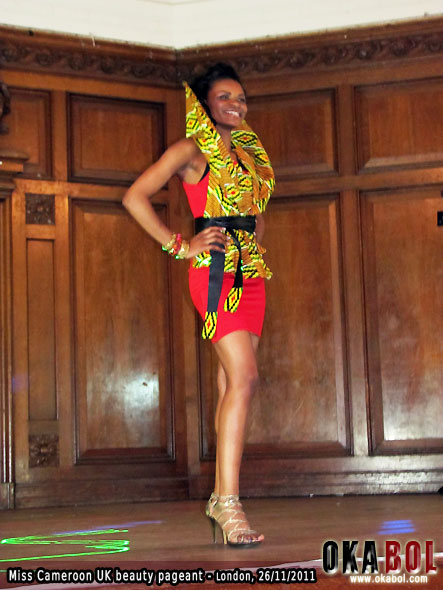 Miss Cameroon UK 2011 beauty pageant that took place at Porchester Hall, London on the 26th of November 2011 having ten Cameroonian- African queens as contestants finally left just one in the lucky person of 23 year old Lizette Forkwa. On the night of the occasion, after much deliberations from the judges amongst whom was Cameroon's jazz guitarist Muntu Valdo,the two final contestants had their hearts pondering so hard as it hadn't been an easy task for the judges to be left with the last two of them out of the ten girls.
 To everyone 's greatest surprise during the
award ceremony of the occasion which came up before the final pronouncements, first runner up Gladys Ebelle won 8 out of 12 prizes. She eventually returned home in Manchester where she lives with her family as Miss Personality, Best Model, Miss Elegance, Best Evening Gown,Most Elegant Cameroonian, Positive Runway Global Catwalk… she was so so overwhelmed to have won such a huge number of  prizes though not the crown. Meanwhile Lizette on her part received the Miss Excellence and Best African Wear awards expressing how the queen-like privileges, plus the princesses and limo accorded her only made her felt so top of the world. She added that she was just so confident in herself that her first runner up's glories didn't scare her one bit, wat a confidence! Well Liz being the God fearing person that you are and as an aspired role model to the present generation, NexDim wishes you the newly crowned Miss Cameroon UK 2011 all the best.