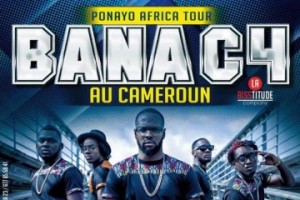 The Congolese boy band Bana C4 were to perform at Palais De Sport in Yaounde on September 19th and September 23rd at Parcour Vita.
In Yaounde, it was a total flop. Fans got frustrated at the venue  after having bought  tickets. The organisers had not booked for the venue and the group did not get any updates from the organisers.
In Douala, the group offered a spectacular performance at Parcour Vita to their fans for free.  In  a video excerpt aired during Urbaniz on Equinox TV Saturday ,  the Congolese band Bana C4 were totally exhilarated with Bisstitude and blamed them for swindling £3500 which was supposed to be paid before their performance. The group leader was therefore asking for the arrest of Djibril and Anne Marie Tamo of Bisstitude.
An aftershow performance that was slated to take place at Le Boucan on 23rd September did not hold to the frustration of fans.
More demeaning, the group was taking for questioning on their way to the airport for an unpaid restaurant bill of 80,000 frs by the management of Serena Hotel.